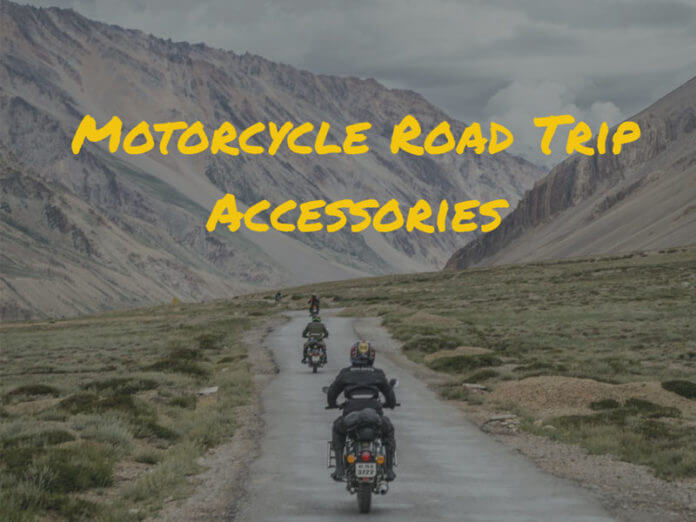 Motorcycling is a great way of developing a deeper relationship with yourself and your bike.
Here's a list of must-have motorcycle accessories will enhance your bike riding experience and ensure that your journey continues uninterrupted.
#1. Phone Mount
What: The Universal Premium Bike Phone Mount for Motorcycle from Roam
Do you need to stop driving when you need to make or answer a call? A phone mount might be the solution for you, like this Roam universal Premium Co-Pilot Bike Phone Mount that fits on all bike models and phones no wider than 3.5 inches. It connects to your Bluetooth headset or earphones, and you can simply press the button to take calls.
The mount holder that goes on the handlebar can be adjusted to fit thickness between 7/8″ – 1-1/4″ inches diameter. It's held securely in place using two points of contact – a silicone net and a plastic grip that are strong and durable.
USP: Multi handlebar thickness adjustment.
#2. Waterproof Cover
What: All Season Black Waterproof Sun Motorcycle Cover from XYZCTEM
This universal fit cover is meant to fit all on and off-road motorcycle models, like Kawasaki, Honda, Yamaha, Suzuki that fit into the 108-inch radius. It's been made out of 210D Oxford fabric coupled with PU materials that are known to be lightweight, soft, and water repellent and won't be abrasive on the bike body, paint finish, etc.
When folded up, this cover fits into a neoprene carry bag that's the size of a small backpack. The cover is designed to reduce heat and moisture by releasing rain that can trickle into the motors, ruin or fade paint jobs, leaving cracks in the seat. Simply slide the cover on and the rear elastic hems to keep it in place, and you pull the rest of the cover over the handlebars.
USP: Can be used in all climates.
#3. USB Charger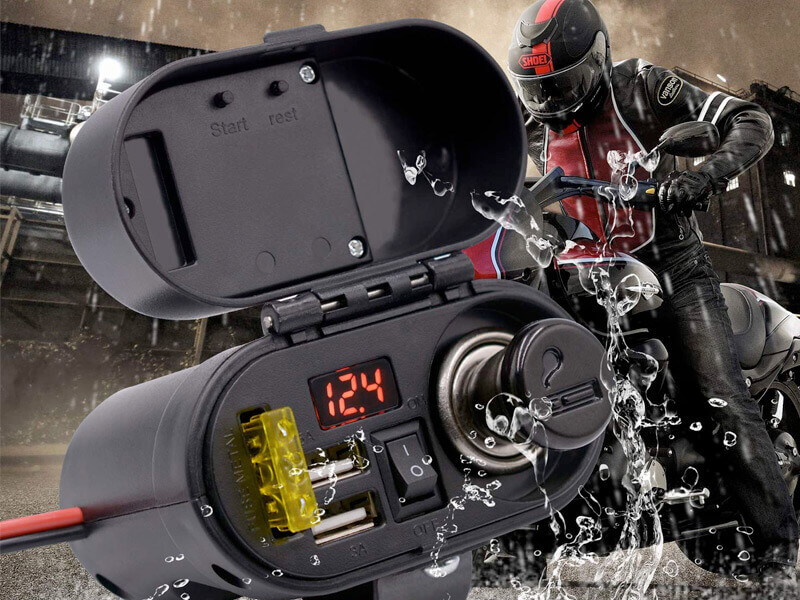 What: 5V/3A Dual USB Charger Socket Waterproof Motorcycle Handlebar & Rear View Mirror Clamp Power Adapter Charger from BlueFire
This USB Charger Socket is made from ABS material that's environmentally friendly, anti-corrosive, and fire-retardant and won't get spoiled when exposed to very low or high temperatures. The charger works quickly and sits securely on your bike.
It includes a dual USN joint, voltmeter, cigarette lighter socket, and a fuse so you can save on space but still have all of these functions on your bike trip. The cigarette lighter uses ceramic heat insulation material, and this multi-function kit comes with a waterproof & dust-proof cover.
You also get a digital voltage display for monitoring vehicle's electrical safety and a full 4.75 feet (1.45 meters) or cable too. This cable has a built-in fuse for better reliability and safety.
USP: Battery power mode.
#4. All Season Motorcycle Jacket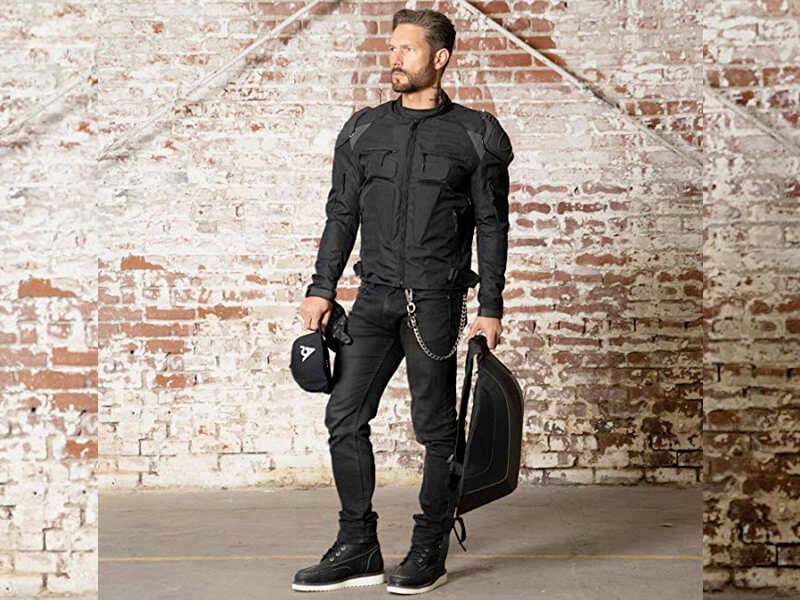 What: The Asger Motorcycle Jacket For Men from Viking Cycle
Heavy-duty protection is made possible by the chest guards placed on the front for better windburn shielding. You also get additional polycarbonate armor shields on the shoulders.
You remain visible with the reflective back and in front of this jacket that's great for a drive at night. Wear the jacket during the rains too, as it's made out of Tri-Tex fabric known for waterproof abilities. Vents on the back, front keep you cool in summers or warm in colder weather. If it's too warm, you can detach the quilted polyester inner liner.
The jacket has multiple pockets for carrying keys, cash, earphones, and other more valuable items can be stowed away in the interior pocket. If you're thinking about the fit, adjust the waisted belt, so it doesn't fly around while biking.
USP: Protection from high-speed cold and hot winds.
#5. Helmet
What: The Bluetooth Integrated Modular Flip up Full Face Motorcycle Helmet from ILM
With this ILM Bluetooth Integrated Modular Helmet, you won't have to fiddle with smartphones, headphones or park aside just to remove your helmet. It's fitted with Bluetooth 3.0 Technology that ensures eight hours Talk Time.
Control features like answering, rejecting, redialing, FM, radio, GPS Navigation Audio, and music using One Touch Call Control. The intercom feature connects with other riders as it supports a maximum distance of up to 1000 Feet and audio is clear clearly thanks to 2 Built-in Full Stereo Sound Speakers.
Remove the microfiber liner with adjustable vents that is washable. The ILM Bluetooth Integrated Modular Helmet fits ECE and DOT Safety Standards and is even fitted with DSP Echo Cancellation and Noise Suppression Technology.
USP: Multi Bluetooth phone functions.
#6. Gloves
What: Motorcycle Bicycle Mountain Bike Gloves for Men and Women from RIVBOS
Made from wear-resistant super-fiber material that's a mix of 90% cotton and 10% nylon makes these gloves very durable, especially on the palm area that is contact with the handlebars of your bike.
The gloves have padded foam but is still very flexible. They're also permeable too, as it has lycra –spandex fabric that's breathable and keeps hands dry. The hook and loop fastener closure on the wrist keeps the gloves securely on your hand.
The thumbs have terry cloth on them for wiping off sweat without removing the gloves. These RIVBOS Gloves have multiple uses and can be worn by men, kids, and women.
USP: Padded friction protection.
Price: $12.98 – $15.98
#7. Boots
What: Men's Waterproof Leather Motorcycle Combat Ankle from Qomolangma
These boots are made out of imported, premium heavy-duty leather on the boot and sole and are 100% waterproof to keep your feet dry. The sole has a special traction grip that prevents you from slipping on gravel, ice, sidewalks, wet roads, etc.
In spite of a full rubber build, the boots are light, and cushion your feet with the TPU back support, EVA midsole, and it looks cools too. That's due to the velcro quick closure and lace-up vamp that gives you a customized fit every time.
USP: Full rubber custom fit.
#8. Waterproof Backpack
What: Motorcycle Leather Waterproof Backpack from MotoCentric
This backpack can be used internally and externally, where you can tighten the net bags inside and outside the pockets. There are layered compartments inside that can easily hold books, laptops without tossing them around or damaging them. Made from ultra-wear resistant, waterproof Oxford fabric, the part that goes directly on your back is breathable for the hotter weather, while the external shell has a reflective strip.
USP: Layered inner pockets.
#9. Repair Tool Kit
What: Essenti-Economy Tool Kit EE-1HD
This Essenti-Economy Kit has all the tools you'll ever need for your bike, but in a compact case, that's easy to carry. This set contains a 6-in-1 ratcheting screwdriver, two spark plug sockets, hex, Torx and wrench sizes, air pressure gauge and locking pliers.
It is the value kit that will save you and your bike from most roadside emergencies and even prove to be useful with garage work as well. The Essenti-Economy Tool Kit EE-1HD comes in a nylon zip-up pouch that is water-resistant and heavy-duty.
USP: Multi-use tools.
Price: $59.32
#10. Bluetooth Headset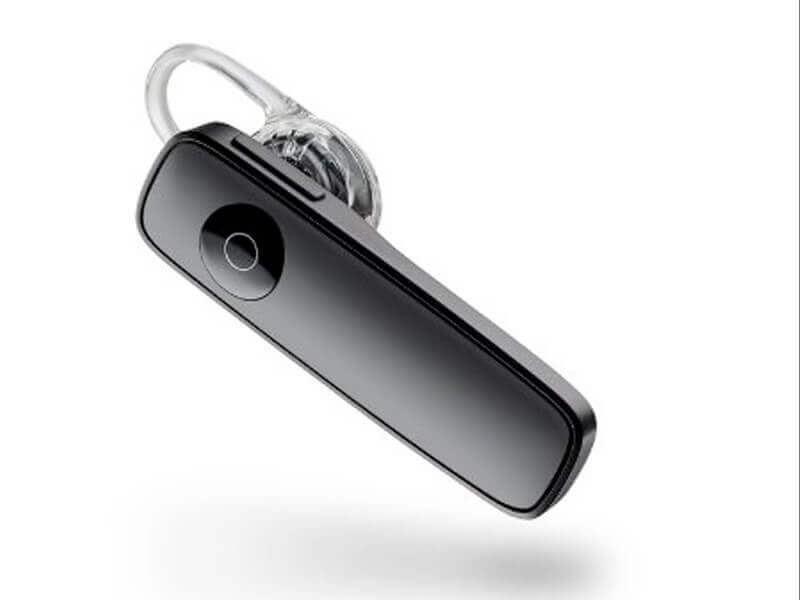 What: 88120-41 M165 Marque 2 Ultralight Wireless Bluetooth Headset
If you can't get a hold of the Bluetooth helmet reviewed earlier, then get this 88120-41 M165 Marque 2 Ultralight Wireless Bluetooth Headset. It has dual noise reduction microphones that offer a crisp and clear sound output quality.
The Headset has Plantronics voice recognition technology, where you only need to say 'Yes' or "No.' Don't worry about the batteries ever losing juice, as they can deliver 7 hours of talk time and even save power with the Deep-Sleep mode.
For optimal comfort, this Headset even has extra ear tips in the small, medium, and large sizes. Can be tracked with the 'Find My Headset' apps on Android or iOS to get the device to trigger a tone for you to track.
USP: Multi hands-free functions.
#11. Portable air pump & puncture repair kit
What: Portable Air Compressor Pump 150PSI 12V – Digital Tire Inflator – Auto Tire Pump from Helteko
Helteko says that this 150PSI 12V Portable Air Compressor Pump is made from top quality ABS plastic and stainless steel. Pump tires for as long as you like, whenever you like and then it shuts off when it detects the desired tire pressure.
Monitor pump activity on the LCD digital display that is bright and precise to help you figure out values like KG/CM², KPA, PSI, and BAR. This pump can be used for refilling standard mid-sized car tire in just three to five minutes; or you can use the extra 3.5M spare tire inflator cable on bikes, SUVs, motorbikes, and cycles.
USP: Compact, fast working pump.
#12. Seat Side Bag
What: Willie & Max 59776-00 Triangulated Synthetic Leather Motorcycle Swingarm Bag from Dowco Willie
The Dowco Willie 59776-00 Triangulated Motorcycle Swingarm Bag is available in synthetic leather, complete with magnetic securing attachments and chrome buckles. Although suited for all triangulated swing arm bikes, you can use it with mopeds, scooters and other kinds of motorbikes.
The mounting straps are made from the same leather and with the slotted mounting holes, installing the bag is easy. With this bag, you'll receive two pieces of clear vinyl film to protect it when not in use.
USP: Magnetic closure fixtures.
Riding gear can make a world of difference when biking down a highway, whether you're a professional biker or use a bike to go everywhere; you might want to go through this list of accessories.