Los Angeles is a multifaceted place comprising of the entertainment industry, beautiful beaches, mountain ranges, and valleys. You can visit the place as it is popular for the television world, the music industry and motion pictures which attract visitors to a great extent for its show business.
LA is an overcrowded tourist spot mix up with different cultures that gathered together a center of various activities. There are plenty of things like shopping, museum, and parks to get an attraction.
You can spend uncountable days in close contact with a warm climate by surfing, sunbathe and also enjoy a picnic. You can experience exciting activities like take a long drive, ride a bicycle, and hike on a trail.
15 Best Things to Do and Must-See Places in Los Angeles, California
#1. Universal Studios Hollywood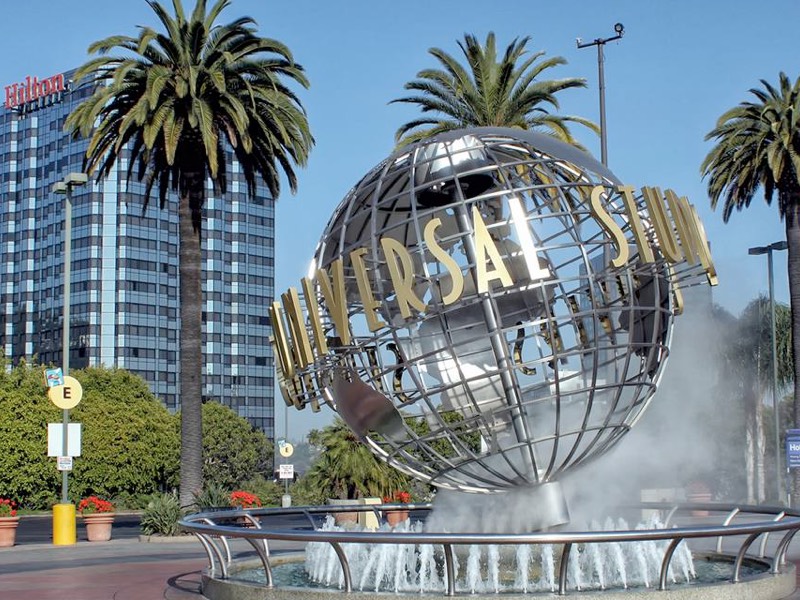 This place is a famous active complex studio for those Hollywood fans following persons. It is the most visited place in Los Angeles, which is overcrowded. This place is divided into two parts- the upper lot and the lower lot, with most of the attraction located in the upper lot.
Besides this, you can check out city walk, a combination of entertainment, shopping, dining, and theatre. You can explore TV sets and shooting to know what happens exactly behind the scenes.
#2. Venice Beach
Venice Beach is a beautiful beach in the world with lots of adventures like surfing and riding. It is very important to take a bath on the beach if you have visited it. You will be given a set of instructions to enjoy the ride and protected by safety measures to experience the waves.
Beach can be crowded mostly on sunny days for sunbathing. You can frequently be beachgoers with full energy hardly that impresses out of towners.
#3. Griffith Park
Griffith Park is located on the south-facing slope of Mount Hollywood in Los Angeles, a popular tourist attraction with a close view of Hollywood landmarks, which extensively displays science. You can visit this place by a free entry on a good day or by paying $3 to $7 to see the planetarium show.
You can plan to visit this weekend from noon to 10 p.m Tuesday to Friday Olympic as there are many adventures to do like golf courses, tennis courts, hiking trails, and other attractions. You can also go through on scenic drive and walk on trails for a gorgeous view of mountains.
#4. Disneyland Resort
The theme of the park is based on the fairy tales, and Disney characters seem to be the magical and happiest place on earth for every age person. If you plan to visit here, then book tickets online already to save your hour and be careful to spend your money on food and drink.
If you are a family person, this place is best suited as it comprises rides, Disney characters, and resorts for a complete vacation. You can enjoy shopping, hotels, restaurants, stand up shows and all kinds of entertainment.
#5. The Getty Center
The Getty centre has phenomenal gardens located at the centre which exhibit creative masterpieces spread over 110 acres. It features paintings, drawings, sculptures, illuminated manuscripts, and decorative arts.
You will fall in love with the amazing work by Rubens, the architecture by Richard Meier, a great view of Central Garden, and the Cactus Garden. You will influence the aura and aroma to spend the whole day in such a calm place.
#6. Santa Monica Pier Beach
A beautiful destination where sand and water mix up to give real joy ranges over a vast coastal area. The place is overcrowded where you can do plenty of activities like playing volleyball, surfers, standup paddleboarders, yoga lovers and swimmers.
You can also enjoy the place by taking a ride to the Ferris wheel, and if it does not happen, go shopping. You can visit the Ocean View Hotel, a fantastic salt-laced location without breaking the bank.
#7. Los Angeles County Museum of Art
The museum has a good collection of art opened in 2008 spread over 20 acres complex building comprising of contemporary arts and a single building redesign the way.
It has a fabulous collection of arts and photography extended over various galleries covering wide topics. A large hall is to display giant dinosaurs to gather large visitors. You can plan to visit its campus as it has a massive building designed with a bit more uniformity.
#8. California Science Center
The Science center is a top national museum, great for inspiring and educating every age group of people. You can glance at the space shuttle, as well as artifacts from the space mission, can experience each function. If you belong to the field of living world, ecosystem, and technology, then this place is good.
There exhibit various activities like underwater species, wind effects, magnetic attraction, and gravity terms. You only need to grab your seat and enjoy every bit. So don't stay at home.
#9. TCL Chinese Theater
Movie palace on the historical walk of fame mainly distinguishing features like the signatures, footprints, and handprints of famous picture personalities.
You can visit this place with a minimum ticket price every day except Monday from 10 a.m to 7 p.m. You can book a ticket online in advance as this is an iconic place which everyone wants to visit.
#10. Third Street Promenade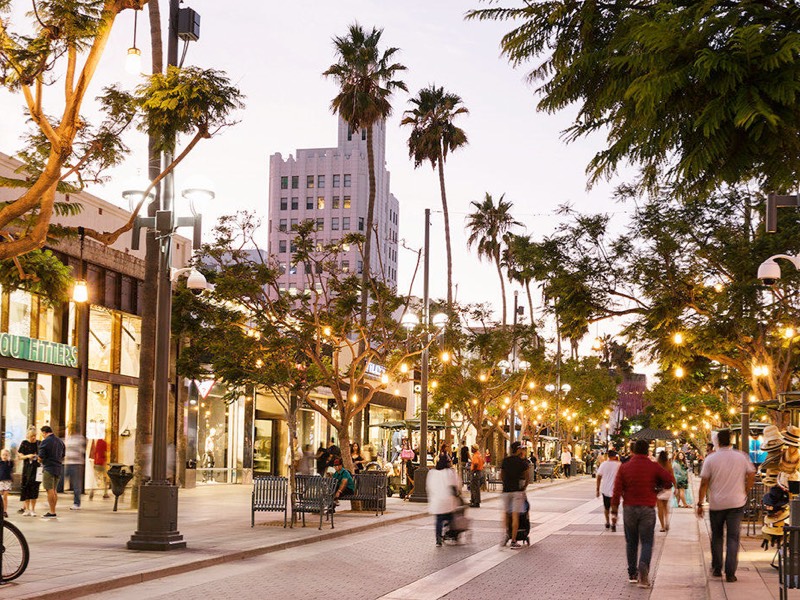 Market to shopping, restaurant for food, theatres to spend the time you can easily access all at Street Promenade with few steps ahead of Santa Monica beach. There are specific brands Sephora, Urban Outfitters, H&M, Abercrombie and Fitch Apple Store, LUSH, and the Banana Republic to make your day happy.
You will be astonished by a large pedestrian who will watch and catch a great view of the area. The noisy atmosphere of Promenade attracts travelers. However, it is turned off during the night.
#11. Sunset Boulevard
Located in Downtown sunset Boulevard is an iconic place, famous for the classic and glamorous Hollywood lifestyle from the old days till today representing a landmark for several films, one best is Sunset Boulevard. You can have a long drive on an empty road afternoon with a beautiful sunset.
You can enjoy here by billboards, bars, cafeteria, drink, and with full volume music. You can go through by climbing west the road dusts itself off as it leads to passing the film stars mansions and gated estates of Beverly Hills and Bel Air.
#12. Natural History Of Museum
Your Los Angeles trip will be incomplete without this beautiful drive to add on memories. You can hang out on a two-lane road for a scenic view to enjoy the tour. You will come across many celebrity homes and the stunning zigzag look of the road.
You can see occasional tour buses and snapping pictures with huge traffic of people, but one car drive will make you feel the real joy of the drive. It will be fair if you take short breaks and step out to praise far away from the prospect of Universal City, Los Angeles Basin, and the Santa Susana Mountains.
#13. Arts District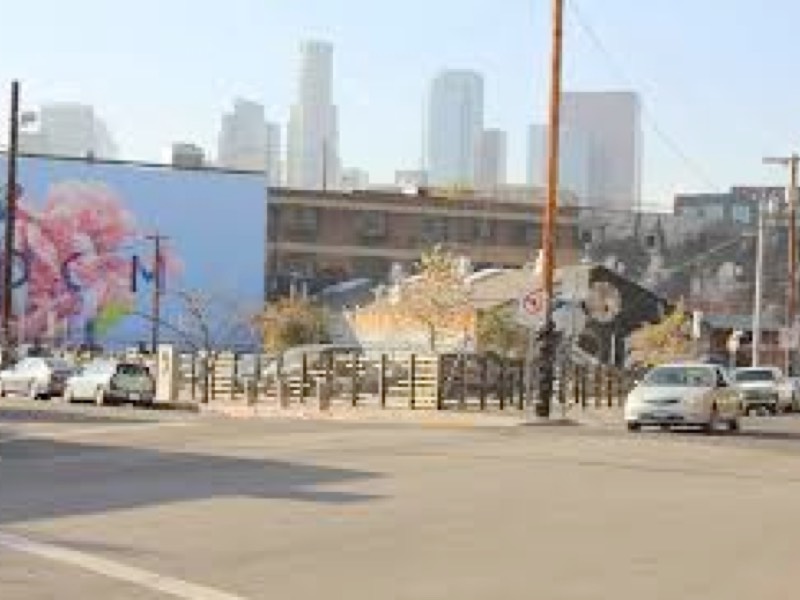 An art district is a famous place located in Downtown, the hub of creativity and graffiti started in the early 1970s. You will see talented youths who shower the city with exotic art.
You can walk along the street and appreciate the art of artists spread on walls. It is good if you bring a camera to capture all the beautiful galleries and ethical beauty with a sip of coffee.
#14. The Strand
The best way to experience Los Angeles is Strand, a full package of rides, beaches, shopping, and restaurants. Start with bike renting, which cost $7/hr and $20/day to hop on the strand spread over 22miles. You can go north on relax ride for iconic views of the Santa Monica Mountains less crowded, whereas the south leads to Santa Monica and Venice beach.
You will come across amazing artistic, lively music, and a quirky atmosphere. Whether you walk along, ride through a bicycle, or skateboard strand is an amazing way to see the best side of Los Angeles. At last, you will delight with a magic hour for long shadows to hold the moment.
#15. Hollywood Walk Of Fame
One of the most iconic businesses of Hollywood where every celebrity gathers which can make your day by taking a glance over the exotic area to observe the pink terrazzo written over famous artist names.
You can walk along the streets with a cherished moment. You can also have fun with premiers, ceremonies, and Chinese theatre. You can lucky by greeting your favorite actors at the spot.