COVID-19 spread by Coronavirus is pandemic all over the world at the beginning of 2020 break many people's heart who has beautifully planned their travel destination. However, I have a list of countries less affected by Coronavirus where you can look up with your loved one for a safe and happy journey.
Beautiful nature, capped beaches, glaring ocean, diverse wildlife, exotic marine animals, local markets and many more to traverse after the outbreak is over to triumph your soul.
Coronavirus layout with sneezing, coughing, shaking hand and get in touch with people. So you will be cautious and aware of various precautions while your trip. You must keep a sanitizer or handwash to keep away germs from your hand during onboard. It is advised to book hotels which are not very crowded so that you will interact with few people. You can search for everything online before arranging to protect yourself from the calamity that ruins your joy.
1. Fiji
Fiji famous for its distinct culture is the friendliest place on earth. You can schedule to trip from mid-October to early November as the most favourable climate condition. You can holiday to Yasawa, Mamanuca and Vanua most popular islands for enchanting and soul-soothing adventure.
You will adore snorkelling, the giants' waterfall, cruise on yachts to embrace eye catchy views.
You can visit Colo I Suva Forest park lushed with the tropical forest that resonates with fledging lives. If you are a nature lover, Sigatoka Sand Dunes will impress you with mud pools adjacent to the Sigatoka river.
You will be fascinated with mouthwatering foods, dazzling beaches, tropical allure and natural beauty. It is a bit expensive place so you can stay for a 7 to 10 days tour.
2. Greenland
Located in North America is a country of Inuits, polar bear, icebergs and mountains one of few countries that focus on nature and humans. You can experience hiking, fishing and snowshoeing, go on boats through fjords.
You will relish passing 3 hours to 7 days in Disko Bay to glance abundant of marine animals like bowhead, humpback whales and eider ducks sustaining their lives. The exemplary magnificent ice cap can be visible with a helicopter to applaud located in Antarctica. I love polar bears, if you also go for a polar expedition in Scoresby Sund has the largest fjord with a diversity of seabirds such as guillemots and puffins.
3. Turks and Caicos Islands
Turks and Caicos is a land of paradise with crystal clear ocean, soft white sand, mega resorts and calm beaches. It is better to visit in July as 40% less crowded compared to other months. Don't hustle with a Corel free sunscreen and insect repellent in your bag.
Grace Bay with the dazzling ocean, the sandbar at the coral garden, hawksbill turtle where you will snorkel and examine underwater geographical features. You will love outstanding Half moon bay by its shallow island waves with sunbathing, scuba dive and swimming in the ocean to get relax.
A collection of colourful creatures like turtles, eels, lobsters and lionfish will pleasant you in Princess Alexandra National Park. You can have a taste of a variety of seafood especially lobster and conch.
4. Belize
Belize is located in Central America a tropical playground rich in cultural history with ancient temples surrounded by dense jungles. You can feel a real sense of discovery, educational tour and enjoy a refreshing swim in the Caribbean sea.
Mayflower Bocawina National Park is intense for a hike in the jungle, take a bath in a natural pool of warm water, the longest zipline. You can visit San Pedro a stunning coral reef by driving, ship or a cheap flight to enjoy the abundance of things.
You can do scuba diving, snorkelling and island hopping to glance at the exotic marine animals. Tobacco Caye is said to be a tropical paradise, one of the perfect places for an audacious soul to standup paddleboard, diving and fishing.
5. Nicaragua
You will mesmerize by incredible landscapes, amazing lakes, dense forest, hot-headed volcano, magical sunset, dazzling beaches, tourist market, night bars, antique city, abundant fruits like coconut, banana and watermelon.
You can view Masaya for real volcano and nature reserve. You can do scuba diving and snorkel on famous corn islands. Mombacho is full of an active volcano with two hiking trails. The best place for you is Islets of Granada to travel over lakes with kayaking to push yourself for a challenge.
If you are a beach lover, mark Playa Madera on the bucket list for surfing on the beach with scenic views. You can come closer to nature in Apaya Lagoon, a natural reserve with a lush wildlife preserve.
6. Falklands Island
Falkland Island is an archipelago of 740 islands in the South Atlantic with rugged terrain, plenty of stunning beauty, cliffed lined coasts and spectacular wildlife. One of the remote island in the world where you can spend 3 days on the Hurtigruten expedition.
Stanley is a spectacular village with a population of 2200 residents to enjoy pubs, to grab a pint of local beer. Double-decker buses, red telephone booths and indigenous culture is the speciality of this place. Falkland Island Wildlife is popular for colonies of penguins, sea lions, elephant seals and native flowers.
The Penguins of Volunteer Point is a habitat for penguins, steamer ducks and other wildlife is a great spot. If you are a historian then The historic Dockyard museum has a collection of artefacts, ship figureheads and bones and fossils of animals.
7. Cabo Verde
The fabulous mysterious islands of Cabo Verde will surprise you with the constant beat of traditional music, turquoise seas, sandy beaches, world-class surf and surreal landscapes. You can start your day with a delicious breakfast on an outstanding view. You can go on a natural reef a popular feeding area for lemon sharks a place for tourist to safely see them in wild.
You can reach Sal, the sunniest island by the international airport has a tropical paradise to relax at sea. Palmeira is known for harbour, restaurants, lively bars and salt baths for soothing yourself.
A classical beach to spend a holiday in a luxurious hotel where water is blue, you can do watersports, jet skiing and scuba diving in Santa Maria. You can hang out to Paria, an old colonial building for sunlight and pretty photographs.
8. Saint Pierre and Miquelon
It is a collective place composed of eight islands under control with an area of 242 km square. You can set out to a volcanic caldera, inborn amphitheatres with massive basalt cliffs, waterfalls, valley and lava tubes.
You can explore Domaine du café Grille rich in botanical with the coffee plantation that abounds with the exotic and endemic plants on the island. If you love rum visit Saga du Rhum oldest museum devoted to Reunions of rum. Your wish for a life-changing experience can true with Cite du Volcan loaded with interactive displays and holographic projections.
A promising view from Terre Sainte with colourfully – painted weatherboard houses, and the beach terraces shaded by gnarled banyan trees. You can do an early excursion on a trek to a perched lookout at the Fenetre des Makes.
9. Caribbean Netherlands
A chilled vibe island pops up you in the amid solace of wilderness comprised of 15 different ecosystems with blue water. You can hike in mid-July to Statia Island, a place for shopping, chanting, dancing, and local cuisine. Saba, a sandy beach has the highest point where you can reach through a jet or sailboat.
If you are a diver, Bonaire is best for snorkelling, scuba diving, shore diving and an amazing avenue for filming and photography. Sint Maarten with a variety of holidaymaker has 37 beaches; you can relax, shopping, quaff and enjoy playing golf.
You will astonish with exquisite houses in a colourful city known as Curacao. The soothing weather, fresh breeze, horse riding, buying items at curtesy boutique will mesmerize you in Aruba.
10. French Polynesia
This summer French Polynesia is your best itinerary a remote and outstanding island last in the Pacific ocean is said to Paradise on earth. You can visit for a life-transforming experience to soak your feet in the water. You will surprise with a water villa located over the lagoon in Bora Bora full of coconut and palms trees. Snorkelling, massage to body and shoal shark give you immense pleasure.
Tahiti is an admirable dazzling beach with magical marine life, a coral garden, an untrammelled jungle where you will enjoy sunset and sunrise. Another spot is Marquesas Island reached by 3 hours via air, a loved place for surfers with abrupt rockface.
11. Grenada
A Caribbean island named Grenada allures spectacular beaches, a beautiful harbour, bumpy and curvy roads like a roller coaster and famous for spices in the world. You can lay out one hour at Saint George's famous for the amazing harbour for spectacular views. The creamy white shore of Grand Anse Beach is heaven on earth adds on the local market.
You will savour rums in River Antoine Rum Distillery from harvested sugar on the northeast coast near lake Antoine. Belmont Estate and Grenada Chocolate have a rich flavour of spices and chocolates to make a joyful mood. If you are a diving lover, the spectacular scenery of diving will impress you with coral reefs.
12. Timor Leste
Located in southeast Asia on a hilltop sweeps numerous surrounding bay to explore an undiscovered destination. You will feel a colonial charm surrounded by sandy beaches to explore scuba diving, a hamper of seafood, blue moray eels and whales. You will walk along trails on Ataurio island to inhale ecotourism, tropical forest and snorkelling.
The colonial buildings, churches, caverns, eye-catching waterfalls will make your day in Baucau. Jaco Island is an inhabitant for birds where snorkelling along white sand is an incredible activity. It is a must trek on Mount Ramelau from bottom to top usually takes 6 hours where hikers love to go to have a glimpse of the Virgin Mary statue. You can add this to the bucket list as the highest peak, also an exotic residence for bird's family.
13. Vatican City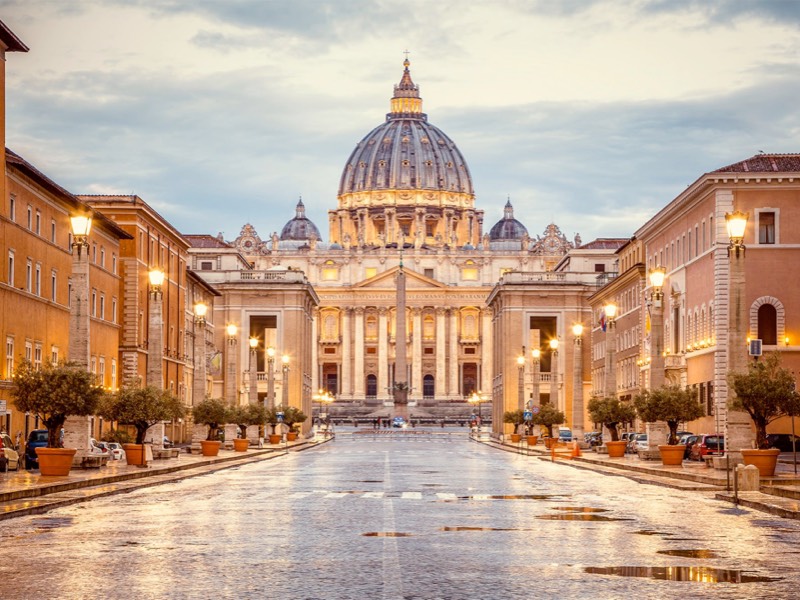 The Vatican is the most beautiful place comprised of worldwide catholic churches close to Rome is located in Europe famous for cultural sites. Saint Peter's Square the heart of the city depicted by Italian architect Gian Lorenzo Bernini attracts people for its intramural construction. For rituals, Saint Peter's Basilica is the holiest place. The church silently depicts its history where Saint Peter is buried.
Sistine Chapel is a worth for art lovers to glance at the paintings on vault is an official place of Pope. You can spend 1-2 hour in the magnificent Vatican garden blended with flowers, trees and shrubs. For book worms, Vatican Library is the oldest one collecting 1.1 million books on art, science, history and philosophy.
14. Bhutan
One of the best itinerary for travel enthusiast is Bhutan, a place for Lord of Thumberbolt rich in forts and monasteries. You will adventure trekking spots, sweeps with valleys and exalted with the Himalayas.
You can spend 3 hours on panoramic Himalaya from Chele La Pass and Jomthari mountain. You can stay in hotels, homestays and resorts at reasonable rates in the valleys of Haa and Paro for a next day tour. If you are curious about Buddhist culture, Punakha Dzong is an amazing place. It is the second-largest dzong famous for architecture and loved by hikers.
You can go for a 7-16 days trek on Chomolhari, the most challenging tourist spot in Bhutan at the height of 5,000 meters. For a nature lover, the eye-blistering beauty of monasteries, alpine forests and beautiful Haa valley will attract.