Think pristine lakes, turbulent rivers, scenic beaches, active volcanic zones, and rugged mountains, all these are reasons enough to plan your trip to the most enthralling destination in Oceania. New Zealand has always been a dream destination for many and rated as one of the must-visit tourist destinations. We'll help you explore the 10 best places to visit in New Zealand.
10 Best Places to Visit in New Zealand in 2020

#1. Bay of Islands, New Zealand
Bay of Islands encompasses 144 islands. Embark on an excursion along the Twin Coast Discovery Highway to the symbolic Bay of Islands. It is a paradise for those in love with beaches and water activities. Take a boat cruise, dive, swim with dolphins, fish or just relax in the sun.
High-speed vessel jets you to many attractions in a short span of time. Waitangi Treaty Grounds is the most visited attraction. The history of the Maori culture is reflected in this historical site. An artistic and a beautiful place to visit with family.
Planning to stay at Bay of Islands? You've ample of options to choose from – apartments, camps, home stays, lodges, motels, etc.
#2. Milford Sound, New Zealand
It is the most spectacular attraction of New Zealand's South Island. Be it any time of the year, the weather here is unquestionably breathtaking. The cascading waterfalls make their way downwards from as high as 1000 meters. These waterfalls magnify with grandiose effect when it rains in Milford Sound.
The excellent way to explore the charming beauty is through boat cruises. The fiord is home to penguins, fur seal colonies, and dolphins. Nestled underneath the elevating peaks of the Darran Mountains, grab the opportunity to stay here and experience the beauty in its true essence.
#3. Christchurch, New Zealand
Christchurch is at the seat of Canterbury and is the largest city in the South Island. Not one but there are many reasons to visit this city, such as dolphins, seals, whales, ski, raft, bungee jump, mountain bike, surf, hike, swim, golf, and so much more. It might interest you to know that Christchurch is one of the five 'Antarctic gateway' cities in the world.
Amazing street art has changed the way this city looks.
Explore the energetic city by vintage cycle, tram, bus, gondola or put on your shoes and stroll down the streets. Spend some quality family time without worrying about your pocket. Christchurch Art Gallery is the place for you. Bring out your adrenaline side and head to the domains and parks. Go back in time to the Discovery Room at Canterbury Museum.
A comfort stay or a budget stay, there is something for everyone. Select as per your preference from motels and apartments to luxury and boutique, and holiday parks and backpackers.
#4. Auckland, New Zealand
The largest city and often confused as the capital city is located in North Island. Auckland is a blessed city when it comes to its geography. It is the city of pure admiration. Auckland's extensive harbor, remarkable islands, and high-spirited cityscape offer an arresting mix of urban, wildlife and water activities.
Being in Auckland, if you did not take a ferry to Waiheke Island then you did not do anything. A 30-35 minute ferry ride from downtown Auckland, experience the landscape and lifestyle far away from the world. Rent a beach house or stay overnight at backpacker hostel, you won't regret any. The island is also famous for wine tasting.
#5. Queenstown, New Zealand
Queenstown is a resort town and a place for adrenaline junkies. It is a major center for snow sports in New Zealand. Hair-raising and heart-stopping activities are sure to make your stay unforgettable.
Rejuvenate your body and soul, in a hot pool or by visiting spas. Another must do experience is the Queenstown Cycle Trail. Exhilarating views will unfold as and when you ascend to Bobs Peak by Skyline Gondola. Gibbston Valley's winery tour includes wine tasting in New Zealand's largest wine cave.
Lake Wakatipu is a must-visit. It is the longest and the third largest lake in New Zealand. This Z-shaped lake has its own heartbeat that soars and drops by about 20cm every 27 minutes.
#6. Fox Glacier, New Zealand
Feel invigorated and have a chilling experience. You look around and you'll only find the blue sheen of ice. In the foothills of the Southern Alps, Fox Glacier is equipped for walks, hikes, and flights and offers you a lot for adventure. The most popular way to enjoy Fox Glacier is heli hikes and ice climbing.
Lake Matheson is near Fox Glacier. This lake is famous for mirror-like reflections of Mount Tasman and Mount Cook on any clear day. Take your camera and reward yourself with a cup of coffee while at Matheson Café after walking the full 2.6 km circuit around the Lake.
Remember to bring layers of clothes to keep you warm. Gear up for the trip of a lifetime and memories which you'll cherish forever.
#7. Rotorua, New Zealand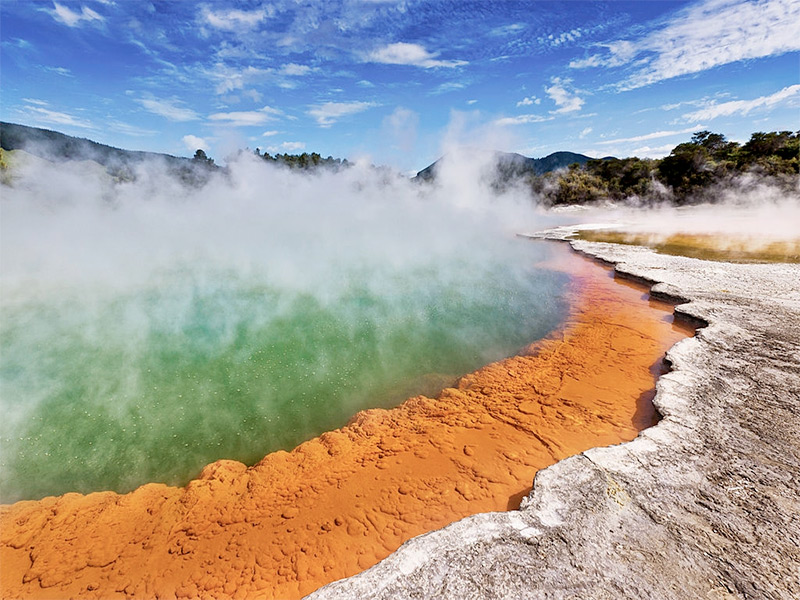 Rotorua is popular for natural hot springs and bubbling mud pools. Experience the Maori culture and savor Hangi meal (the traditionally cooked meal using earth oven). Visit the most scenic landscape of geothermal color and energy at Wai-o-tapu Thermal Valley. Get your heart pumping and go for rafting in the Kaituna and its 7m waterfall.
Take your journey through Rotorua Canopy Tours or the Redwoods TreeWalk. It offers you a unique combination of magnificent trees, birdlife forest walks, zip lining, conservation stories and mountain biking. Not disappointing anyone, there's a track to match everyone's ability. Rejuvenate and heal yourself at one of the most active thermal parks, Hell's Gate.
#8. Fiordland, New Zealand
Fiordland is one of the most dramatic and alluring regions of New Zealand. A noteworthy fact about Fio