Looking to visit Santa Barbara? Here's what you can't miss!
Santa Barbara, just one hour north of Los Angeles, is the ultimate beach town in California. From the sunshine at its beaches, grand architecture, outdoor hiking trails to wild nights at the clubs, Santa Barbara has it all.
So, ready to experience the best of Santa Barbara? Here's our ultimate guide to adventuring around Santa Barbara!
Top 6 Things to Do and Must-Visit in Santa Barbara
Kayaking in the Santa Barbara Harbor
If you're feeling adventurous, rent a kayak or join a guided kayak tour at the Santa Barbara Harbor and paddle around the harbor or up the coast. Kayaking is one of the most enjoyable things to do in Santa Barbara Harbor.
Visit Old Mission Santa Barbara
The late 18th-century Old Mission Santa Barbara is a beautiful and historical destination with a solemn cemetery and chapel as well as an exhibition about its construction and life within its walls.
A lush courtyard, terra cotta roofs, and shaded arches can all be seen reflected in Santa Barbara buildings throughout the city.
Visit Santa Barbara Botanic Garden
If you are a nature-lover, visiting the Santa Barbara Botanic Garden is definitely one of the must-see places. This 78-acre enchanting garden featuring 1,000 types of species of fauna, 5.5 miles of paths, an authentic Japanese tea garden, a redwood grove & more.
Hit The Beautiful Beaches like Butterfly Beach & Hendry's Beach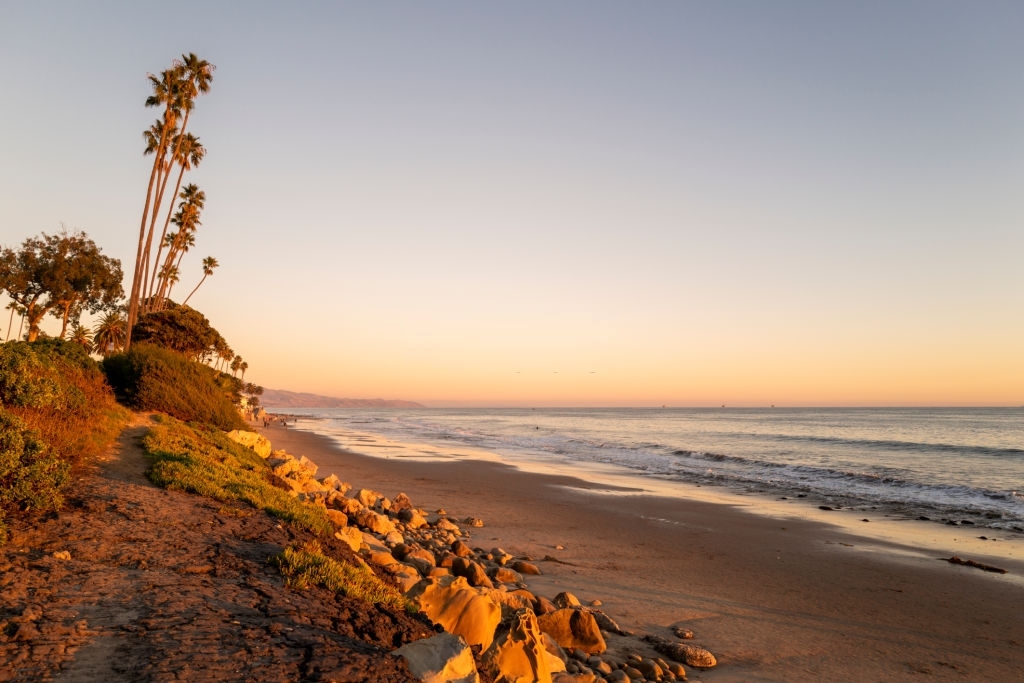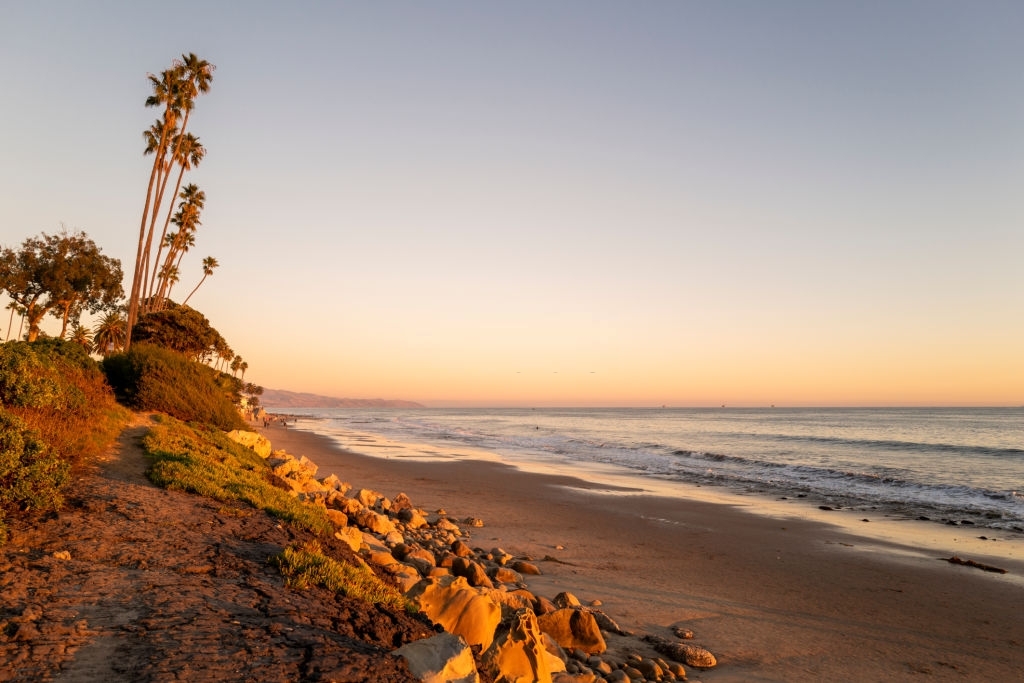 The sun, the waves, the calm ocean, and the fun… a visit to Santa Barbara's beaches is a perfect way to spend a perfect day. Butterfly Beach, Arroyo Burro Beach, East & West Beach are prime choices for a day at the beach.
Grab a Bite to Eat at The Lark
Stylish, relaxed, and 100% delicious, The Lark is an expansive farm-to-fork restaurant to go with friends for casual dining in the heart of the Castro.
If you are looking for a budget-friendly eatery, La Super Rica Taqueria and Lilly's Tacos are the perfect places.
Visit State Street for Outdoor Shopping
There would be no trip to Santa Barbara without at least a healthy dose of shopping. State Street, the infamous shopping street in Santa Barbara, has more than 1,200 shops, art galleries, theaters, and attractions, including the Santa Barbara Museum of Art.
Also read: Best National Parks in California, USA
Top 6 Hikes to Do in Santa Barbara
Inspiration Point
It is 3.5 miles roundtrip that leads into the foothills of Santa Barbara and ends with a picturesque view of the city. During a clear day, you'll get to see a stunning view of downtown, the coastline, and even the Channel Islands.
Pro tip: Plan your hike before sunset to enjoy the view.
Seven Falls
Located near Santa Barbara, California, Seven Falls Trail is a 3.2-mile out-and-back trail that is moderately trafficked and features a waterfall. The trail is popular for hiking and is accessible year-round.
Pro tip: Don't forget to pack your swimsuit
La Cumbre Peak
It is a 10-miler out-and-back hike from the end of the Tunnel Trail. The stunning ridge offers panoramic views of the coast. It is one of Santa Barbara's most recognizable scenery at 3,995 ft. elevation and a must-do hike for every hiker.
Gaviota Peak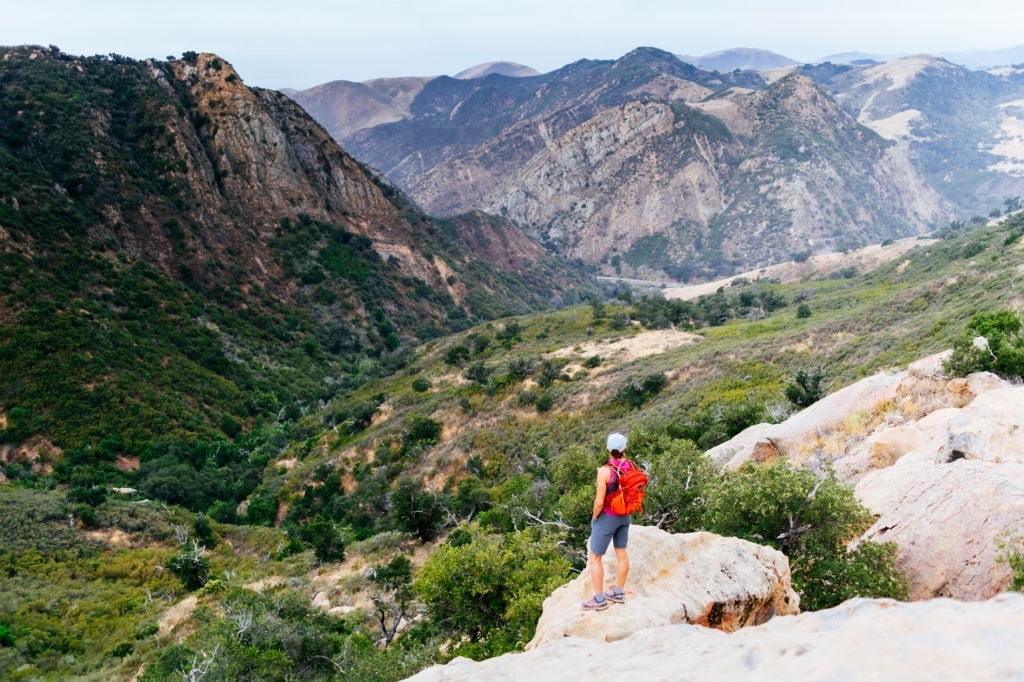 Located at the lofty west end of the Santa Ynez Mountains behind Santa Barbara, Gaviota Peak is a 6.5-mile loop trail rated as difficult. It offers breathtaking views up and down the coast.
Pro tip: Be prepared to climb as you hike the trail to the top.
Saddle Rock Trail
It is a 2.9-mile loop trail that features red rock, incredible views, and beautiful wildflowers. It is accessible year-round and rated as moderate.
Lizard's Mouth
Located near the top of the Santa Ynez Mountains, Lizard's Mouth Rock is the highest point of a large, flat rock formation. The trail is 0.3 miles out and back and has one of the best views of the Santa Barbara area.
When to Go to Santa Barbara
Year around! The weather is basically perfect in the American Riviera. If you want to avoid the summer rush, the best time to visit is from March to May or September-November for less crowds & beautiful weather.
What would be the Trip Length?
You could definitely see the highlights of the area in 1 day, but it is recommend hitting everything in at least 2-4 days.