So, 2019 is getting over really soon and there are some festivities still pending in the slot! On thinking about the grand celebrations, nothing can beat the delightful aura of Christmas. As this event marks its existence, the rooftops of every house start getting covered with snow, Christmas conifers show them up for sale and the air gets filled with the odor of cinnamon and gingerbread.
Aren't you just bored of the monotonous Christmas celebrations at your place? If yes, then you have got our back. We have showcased multiple Christmas vacation ideas that are going to transform your boring days into the frolic packed ones! For those who cannot just stop their feet from heading towards the top-notch destinations for celebrating Christmas shall have a look here. These are the top spots for you to be a part of this mega celebration.
#1. Vilnius, Lithuania
Why visit Vilnius, Lithuania?
If you are thinking to head towards Vilnius for celebrating Christmas this year, why would you even give it a second thought? This is because it has been continually serving as a highly apt place for having some glimpses of the Christmas celebrations done right! This Christmas getaway is really underrated but can be counted amongst the best Christmas vacation ideas. The historical feeling lying here is no less than magic.
Christmas celebration ideas at Vilnius, Lithuania
Exploration of Rotuse's International Christmas Charity Bazaar.
Do not forget to have a look at the Christmas Tree lying at the Cathedral Square.
Watch a very interesting and innovative 3D Christmas Tale on the walls of the Cathedral.
#2. Santa Claus Village, Finland
Why visit Santa Claus Village, Finland?
If a single Santa is never enough for you, you can just fill up your Christmas Day with much of that! This can be done by heading towards the Arctic Circle belonging to Finland. This village is acting as a habitat for a very famous jolly man that is prevalent in the red-colored apparel. Meet the Santa Claus and pass across the miraculous Arctic Circle. The Santa Claus Village is literally a perfect choice when talking about the family Christmas vacation ideas.
Christmas celebration ideas at Santa Claus Village, Finland
Post the beautiful Christmas greeting cards and letters to your family and friends from the Santa Claus Post Office.
Meet the Huskies and Reindeer present here and spend some time with them.
Admire the beauty of ice-sculptures existing in the art gallery and also, you can have some drinks in an ice bar.
#3. Copenhagen, Denmark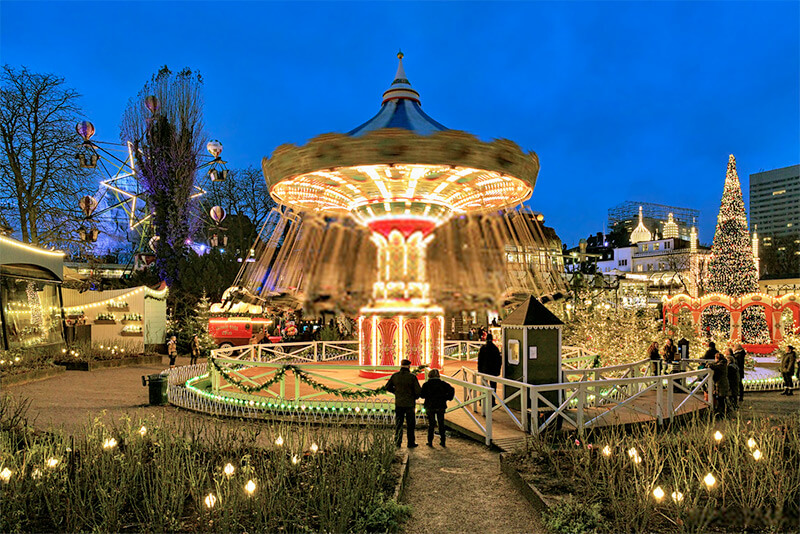 Why visit Copenhagen, Denmark?
The most amazing and vibrant capital, Copenhagen has already been successful in stealing the hearts of many. Don't go by its size, since unlike that, it has the biggest welcoming aura. It is really one of the best Christmas vacation ideas 2019! The streets of this city are filled up with millions of lights, and they leave no stone unturned in brightening up this destination. You will also witness hundreds of Christmas trees giving a magnificent aura.
Christmas celebration ideas at Copenhagen, Denmark
Celebrate the lights present here, which have enlightened the streets as well as the aura lying here.
You can pay a visit to Copenhagen's markets during Christmas, which are decorated at their best.
Have some sips of the warm spiced wine of Demark i.e. Glogg. It is served along with dry fruit.
#4. Geneva, Switzerland
Why visit Geneva, Switzerland?
Want to be a part of the best Christmas ever? Go nowhere except Geneva. During Christmas Day, it has got the best Christmas lights ever. Apart from that, the whole of Lake Geneva is enlightened with an array of stalls, shops and other traditions here. Also, if you are a foodie, then the markets of Geneva are wonderful sites for you. The food exhibitors travel from all across the globe to Geneva for Christmas and visitors can have a taste of these savories.
Christmas celebration ideas at Geneva, Switzerland
Pay a visit to the Genève Marché International de Noel at Place de la Fusterie.
Lake Geneva has a huge Christmas Market, you can explore that.
Shop at the Rue du Marché as well as Rue de Rive.
#5. Helsinki, Finland
Why visit Helsinki, Finland?
During the whole winter season, the Christmas markets belonging to Helsinki steal the attention of tourists. Apart from that, many have rated it amongst the top 10 Christmas markets of Europe. These busy markets are decorated with their whole might and are continually been favored for their beguiling aura. All that you can expect from these markets are abundant fun with your travel mates.
Christmas celebration ideas at Helsinki, Finland
Enjoy the delectable rice, porridge as well as the plum juice during the morning.
Indulge in the activity of shopping for the beautiful handicrafts prepared by more than 140 skilled craftsmen here.
Be a part of the very amazing Christmas Concert and that too free of cost.
#6. Amsterdam, Netherlands
Why visit Amsterdam, Netherlands?
A Christmas trip to Amsterdam is worthy of your investment. The people here commence the preparations for the same before a month. Right from the month of November, this destination starts getting dolled up for the Christmas Day so that it is able to steal the hearts of visitors present. The whole Museum Square miraculously converts into a Christmas village that looks unbelievable when completed.
Christmas celebration ideas at Amsterdam, Netherlands
Witness the magical Amsterdam Light Festival.
Experience the beauty of the very special Canal Cruise.
Be an indispensable part of the renowned Amsterdam Winter Parade held at Amsterdam RAI convention center every year.
#7. Salzburg, Austria
Why visit Salzburg, Austria?
Exploring Salzburg is not just a journey, instead, it is a whole experience in its own! Its age-old traditions along with notable cultural values have been an attraction too. People from the nook and corners of this world flock to this place for seeing the real beauty during Christmas. It has the most ancient traditional cities which each one of them looking their best during this festival.
Christmas celebration ideas at Salzburg, Austria
Try out your skills in the activity of skiing in the Alps.
Consume the very scrumptious Lebkuchen and drink Glühwein.
Attend the majorly prominent Perchtenlauf's Alpine Heritage Event.
#8. London, England
Why visit London, England?
How can you even forget about London while mentioning the best places for Christmas Day celebrations? Just in case you are confused about the places to go for Christmas 2019, then the easiest option would be none other than London. During winters, the whole destination takes up the shape of a winter wonderland providing many surreal landscapes. You can skate in this magical place, do some shopping and have tasty meals!
Christmas celebration ideas at London, England
Visit Trafalgar Square where you will get to know about the history behind the Christmas Tree.
Take part in the Westminster Abbey's midnight mass.
See and enjoy the Christmas lights along with the Carol Concert. It is held at Royal Albert Hall.
#9. Milan, Italy
Why visit Milan, Italy?
The fashion capital, Italy is considered to be the most famous answer to the interrogation of 'where to go for Christmas?' Your plan stands incomplete if you haven't added such a serene destination in your bucket list till now. For all the 'Frozen' movie's fans out there, Milan is undoubtedly the best place. While being here, you can very easily relate the places from the ones prevalent in that animated movie. The magic lying here is incomparable and you would surely have a great time.
Christmas celebration ideas at Milan, Italy
The Piazza del Duomo has been the most favorite place for having a Christmas Tree that is worthy of admirations. You can have a look at it.
Explore the Church of Santa Maria Delle Grazie.
Eat the mouth-watering Panettone that has a taste unmatched with any other dish.
#10. Kraków, Poland
Why visit Kraków, Poland?
When someone asks you about where is the best place to vacation for Christmas, you can answer Krakow without any second thought. This is because each and every element present there is favorable for celebrating Christmas Day. During this festivity, the whole ambiance is packed with excitement, enthusiasm as well as joy. The town squares are filled up with the twinkling Christmas trees and the lavish feasts are present even in the corners of streets!
Christmas Celebration ideas at Kraków, Poland
Participate in the Krakow Christmas Cribs Contest. It would be fun while trying out your skills in these activities.
You can enjoy the commendable shopping spree and have the best time ever.
Also, feel free to cook up the delicious plum cakes along with the lavish feast.
Conclusion:
Since Christmas Day is undoubtedly just around the corner, are you ready for some amazing fun? Catch up with your lovelies and plan a Christmas vacation with them. On having a look at the aforementioned destinations, you wouldn't just have to stay stuck in any kind of confusion. This is because these are just the best! Pack your favorite things, set up the camera and get ready to click some amazing photographs all along your journey. May you have the best time and the most lovable Christmas Day this year!