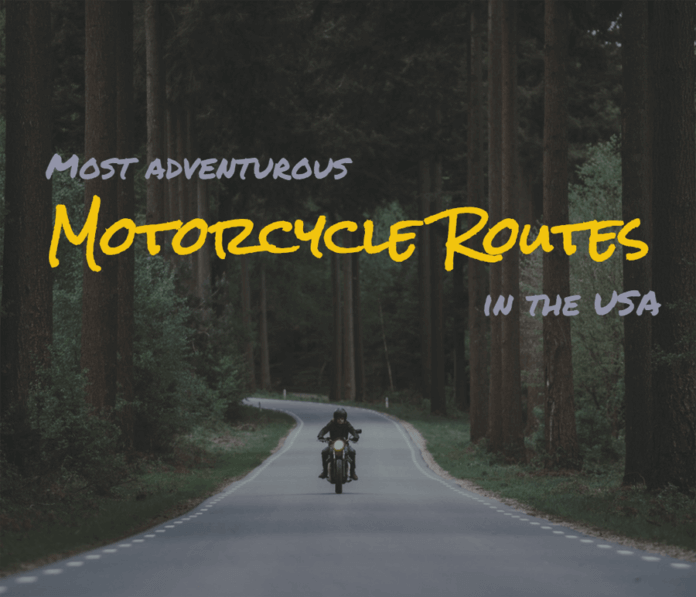 "You don't stop riding when you get old; you get old when you stop riding." – Anonymous
Riding a motorcycle activates the prefrontal zones on the Brain, which build up higher levels of concentration. The advantages of bike riding are not just mental, they are altogether physical also. You can get your whole day exercise through riding.
Moreover, Touring by motorcycle gives you an enhanced sense of FREEDOM AND THRILL that you could not get from inside a car. Here, we have pulled together 14 most adventurous routes to ride down in the USA:
1. Tail of the Dragon, Deal's Gap – North Carolina and Tennessee
With its 318 tight turns in 11 miles, Tail of the Dragon at Deals Gap is widely considered to be America's #1 motorcycle road, located at the intersection of US 129 and NC 28.
Bordered by the Great Smoky Mountains and the Cherokee National Forest with no intersecting roads, The Tail of the Dragon offers apparently uninterrupted entertainment throughout the spring, summer, and fall.
Tip: The nearby Cherohala Skyway is rapidly turning into a riding goal as well, with its remote 60 miles of stunning picturesque mountain highway.
2. Blue Ridge Parkway – North Carolina and Virginia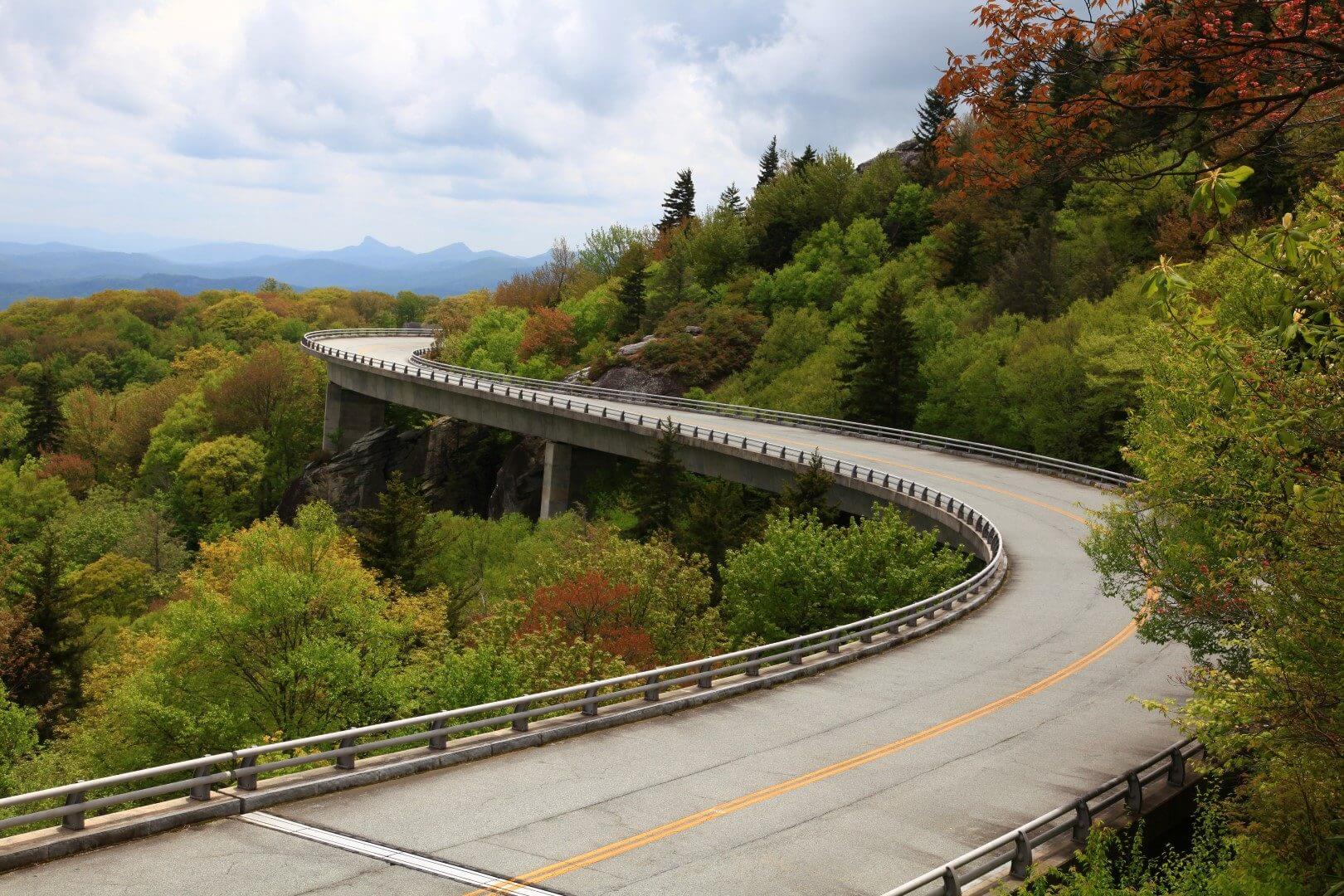 Blue Ridge Parkway is America's longest linear park, 469-miles in length through 29 Virginia and North Carolina counties, noted for its picturesque beauty.The Parkway runs alongside the Blue Ridge Mountains.
Sweeping curves and breathtaking views are only a couple of reasons why motorcyclists love to ride the Blue Ridge Parkway.
Tip: It is recommended to plan for at least two days to enjoy the ride. Also, there are no gas stations on the parkway – but not far off the Parkway.
3. Beartooth Highway – Montana and Wyoming
Beartooth Highway is a 68-miles stretch of US Highway 212 between Red Lodge and Cooke City, Montana, consisting of many steep zigzags and switchbacks.
This route cuts through the Custer National Forest and Shoshone National Forest, offering some of the most awe-inspiring vistas.
Tip: The pass is only open from mid-May to mid-October due to snow.
4. Pacific Coast Highway, Carmel to Morro Bay – California
Pacific Coast Highway a.k.a. California State Route 1, is one of America's most scenic roadways. The most adventurous part of the ride runs through Big Sur, which offers distracting scenes of redwood forests, crashing waves and enough turns to keep you satisfied from start to finish.
Tip: It is recommended to avoid riding on summer weekends due to heavy fog.
5. Peak to Peak Highway – Colorado
The Peak to Peak Highway, a 55 miles long and about 2-hour drive, provides matchless views of the Continental Divide and its timbered approaches. This is Colorado's first scenic byway.
Rocky Mountain National Park, Golden Gate Canyon State Park, Arapaho and Roosevelt National Forests, the Indian Peaks Wilderness Area, Eldora Ski Resort, etc. are the popular attractions along the way.
6. Going-to-the-Sun Road – Montana
Going-to-the-Sun is an epic 50 miles of mountain road that cuts through Montana's Glacier National Park. During your ride you will enjoy beautiful valleys, glaciers, cascading waterfalls, mountains and colorful flowers.
Tip: Start early, plan ahead and be prepared for changing weather.
7. Coastal Route One – Maine
The Coastal section of Maine's US Route 1 is one of the most interesting and scenic road trips in America, especially the 167-miles stretch from Brunswick to Machias.
Maine enjoys plenty of natural attractions, including miles of coastline, seaside villages, National Parks, historic lighthouses and the largest harvests of lobsters and blueberries.
Tip: It is recommended not to plan a trip in Summer Time.
8. Grand Staircase – Escalante National Monument Ride – Utah
This route starts in Panguitch, Utah and follows US Route 89 South to reach Route 12, which will take ideally two days to complete with an overnight stay. The 124-miles stretch provides amazing scenery around Bryce Canyon and Capitol Reef National Parks and the Petrified Forest State Park.
The Grand Staircase-Escalante is considered one of the best motorcycle rides in the USA, with Multi-colored cliffs, buttes, plateaus, and canyons.
9. Natchez Trace Parkway – Tennessee, Alabama, and Mississippi
Natchez Trace Parkway is one of the oldest and scenic routes in America, spans 444 miles between Natchez, Mississippi and Nashville, Tennessee.
The two-lane Parkway is Motorcycle-Friendly, and has a gorgeous scenery consist of rural farms, wooded hills, friendly wildlife, and breathtaking overlooks.
Tip: Commercial traffic is prohibited and the traffic is generally very light except around Tupelo and Jackson.
10. River Road – Texas
Farm to Market Road 170 is also known to locals as "The River Road" because it follows the Rio Grande. The road starts in the middle of nowhere, in the community of Candelaria, which offers motorcyclists the opportunity to travel a little over 100-miles along the Texas border.
This route is not much famous, but it is worth visiting because of Closed Canyon, the Contrabando Movie Set, Big Bend Ranch State Park and the ghost town of Terlingua.
11. The Three Sisters (aka The Twisted Sisters), Texas
The Texas Hill Country Ranch Roads 335, 336, and 337, widely known throughout Texas as the Twisted Sisters or The Three Sisters. This 100-mile loop is one of the best and most challenging motorcycle roads in Texas, offers many tight, twisty curves around the canyons and panoramic vistas.
It is said that there are about 65 curves in one 15-mile stretch! The route follows canyons and climbs jagged, steep hills.
12. Pig Trail Scenic Byway – Arkansas
The Pig Trail Scenic Byway, a stretch of Arkansas Highway 23 runs from the Arkansas-Missouri border to US 71, is named the top motorcycle ride in America by USA Today Readers' Choice poll.
The road features amazing natural beauty with coiling pavement and breathtaking scenery, often running through deep tunnels of overhanging trees. The road is popular in the spring and fall, when wildflowers bloom and leaves turn to autumn colors, respectively.
13. San Juan Skyway – Colorado
The San Juan Skyway is an All-American road, which takes you through to the most delightful segment of the Rocky Mountains. This 233-mile loop road through the San Juan Mountains in southwest Colorado requires some extra care because of drop-offs, curves, and constant ascents and descents.
A 12-mile section of this road between Ouray & Silverton is the most scenic section, known as the "Million Dollar Highway".
Tip: The guardrails disappear at some point, so be careful.
14. Tunnel of Trees Road – Michigan
M-119's Tunnel of Trees is a 16-mile forest route in Michigan that begins in Harbor Springs and ends in Cross Village. As the name suggests, the road is surrounded by heavy foliage.
It is perfect for a ride especially in September (An Autumn) during the color change, and openings in the trees provide for scenes of Lake Michigan.