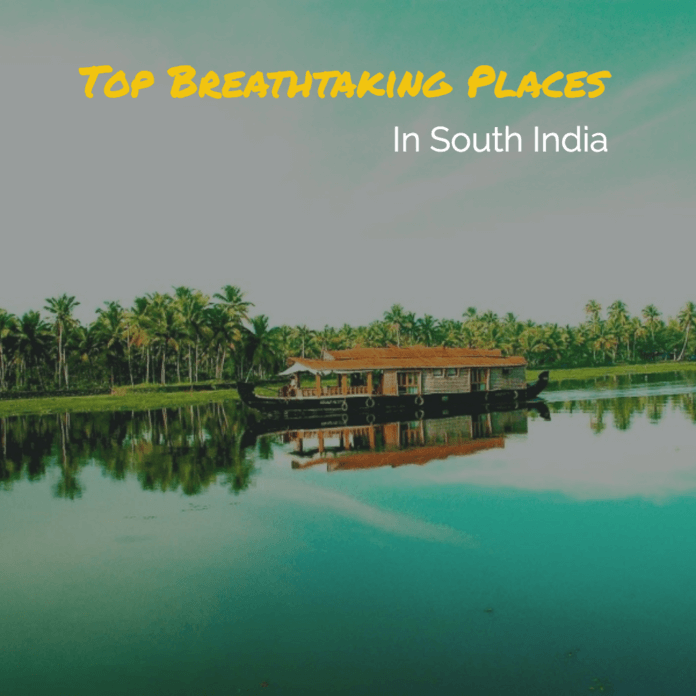 South India wraps with an affluent diversified topological and climatic pattern or includes the whole Indian Peninsula which creates South India a well-known tourist destination of India.
In South India landing in Kerala state gives you the real sense of allure, charm, and excellent hospitality, while moving to Andhra Pradesh state will witness some historical beauties of India.
It starts from the south of the Satpura and the Vindhya ranges surrounding the Deccan Plateau and ends with the Western Ghats and the Eastern Ghats.
When you step into the dynamic state of Karnataka, you will be overjoyed to see the pleasant hospitality whereas the land of Tamil Nadu has some of the finest architectural temples that speak volumes about its adored past.
7 Most Breathtaking Places to Visit in South India
South India offers an amazingly or remarkably unmatched scenic beauty and mesmerizes you to visit here. Let's explore, some of South India's most gripping holiday destinations:
1. Kodagu (also known as Coorg), Karnataka
Recognized for being the "Scotland of the South", Coorg is an enchanting hill station located not so far from Bangalore.
Over the sound of the waterfall. There is no better place for this than Coorg, which easily makes it to the list of best places to visit in South India.
Nestled within the lush greenery of the Western Ghats in Coorg is the spectacular Abbey Falls, with water cascading down from a height of 70 feet. Talacauvery the place of origin of the Cauvery river from the Brahmagiri Hills also extremely sacred.
Golden work is done on every painting at Namdroling Monastery and the unparalleled view from Raja's seat.
What is the Best time to visit Coorg, Karnataka?: Summer days are pleasant with cool and fresh air, while the nighttime gets a bit chilly.
The maximum temperature Coorg experiences are 34 degrees Celsius. From October to May is perfect for sightseeing and outdoor activities.
A large number of tourists come to the spot in order to escape the summer heat of the plains.
Most-visited attractions near Coorg, Karnataka: Abbey Falls, Nalknad Palace, Barapole River, Brahmagiri Peak, Iruppu Falls, Namdroling Monastery, Nagarhole National Park, Microlight flight at Chelavara, ziplining, and angling in River Kaveri.
2. Kerala
Kerala's favorite elephants greet you into this forest, thickly populated by tropical flora and fauna.
Many types of plants and animals can be found over here. Some of the rarest animal species include the great pied hornbill, Nilgiri Tahr, and the Lion-tailed Macaque.
A little unknown and offbeat, Gavi offers a wide range of activities like trekking, camping, boating, safaris, etc.
There's no end to exploring! Kovalam, Kumarakom, Wayanad, and Thekkady are also among the best tourist places in Kerala.
One can also visit the spice gardens and factories nearby. It's slowly emerging as a popular destination in South India for Ecotourism, owing to the untouched natural surroundings of this place.
What is the best time to visit Kerala?: Whether you're planning a romantic getaway or a family holiday, winter is the best season to visit Kerala. Daytime temperatures in Kerala from October through March remain ideal for local sightseeing. To visit the backwaters, beaches, and coffee plantations, November is the best time for an excursion here.
Most-visited attractions near Kerala:
Alappuzha Beach, Krishnapuram Palace, Kumarakom bird sanctuary, Marari Beach, Revi Karunakaran Museum, Marari Beach, Punnamada Lake, Pathiramanal, and Sri Krishna Temple in Ambalappuzha
TATA Tea Museum, Meesapulimala, Blossom Park, Pothamedu ViewPoint, Attukal Waterfalls, Cheeyappara Waterfalls, Kundala Lake, Mattupetty Dam, Anamudi, and Eravikulam National Park
Kumarakom Bird Sanctuary, Kumarakom Backwaters, Aruvikkuzhi waterfall, Thirunakkara Mahadeva Temple, Vembanad Lake, Kumarakom Beach, and Pathiramanal Island
Meenmutty Waterfalls, Chembra Peak, 9 Hairpin Curves, Muthanga Wildlife Sanctuary, Ekkadal Caves, Bathery Jain Temple, Neelimala View Point, and Pookot Lake
Periyar Wildlife Sanctuary, Mangla Devi Temple, Abraham's Spice Garden, Murikkady, Kadathanadan Kalari Centre, Chellarkovil, Kumily, and Deepa World Spice & Ayurvedic Garden
Lighthouse Beach, Samudra Beach, Thiruvallam Parasurama Temple, Vizhinjam Marine Aquarium, Halcyon Castle, Akkulam Lake, Jama Masjid, Vellayani Lake, Karamana River, and Rock Cut Caves
Bekal Fort, Ananthapura Temple, Valiyaparamba Backwaters, Bekal Beach, Mallikarjuna Temple, Chandragiri Fort, Kappil Beach, Nileswaram, Bekal Hole Aqua Park, and Pallikere Beach
Mananchira, Conolly Canal, Hilite Mall, Kallayi, Tali Temple, Kappad Beach, Kozhikode Beach, Thusharagiri Waterfalls, Sargaalaya, Payyoli Beach, Kozhippara Falls, and Matri Dei Cathedral
Varkala Beach, Janardhan Temple, Sivagiri Muth, Kappil Lake, Papanasam Beach, Janardan Swami Temple, Vishnu Temple, Anjengo Fort, Sarkara Devi Temple, Varkala Tunnel, and Kaduvayil Thangal Dargah
3. Mysore, Karnataka
Mysore has risen from the status of a royal city (which it still is) to be a hardcore IT hub.
The former residence of the royal family of Mysore, the Mysore Palace is an extremely breath-taking example of the Indo-Saracenic style of architecture.
The village is named after Somnath, the commander of the Hoysala army who founded this place. It has a perfect natural setting for a family picnic.
Brindavan spread over 60 acres of land and was modeled after the Shalimar gardens of Kashmir. The beauty of these gardens multiplies in the evenings when the fountains light up in various colors.
And one of the best zoological gardens in India, it was established in the year 1892 by Maharaja Chamaraja Wodeyar.
What is the best time to visit Mysore, Karnataka?: Throughout the year. However, October to March is the most pleasant to explore the city of Mysore. Because the weather is cool with the temperature dipping to a minimum of 10°C. December is considered to be the coldest month with the temperature dipping in the evenings. This is also a popular season for couples, especially honeymooners.
Most-visited attractions near Mysore, Karnataka: Mysore Palace, Somnathpur, Brindavan Gardens, Mysore Zoo, Chamundeshwari Temple, Karanji Lake, St. Philomena's Church, and GRS Fantasy Park.
4. Mahabalipuram, Kancheepuram
Soak up the deep culture and complex history of ancient Pallavas on the coastal town of Mahabalipuram, home to a large number of intricately patterned rock-cut monuments and temples.
A quaint little town that lies on a stretch of land between the Great Salt Lake, and the Bay of Bengal.
It is designated as a world heritage site by UNESCO due to the multitude of the timeless wonders left behind by the past civilizations that once inhabited this spot.
What is the best time to visit Mahabalipuram?: November to February during this time of the year, the climate becomes very pleasant. The days are especially awesome and nights are cool.
The minimum temperature is generally above 16°C. This time is perfect for Mahabalipuram sightseeing, outings, and other adventure sports.
Most-visited attractions near Mahabalipuram: Mahabalipuram Beach, Shore Temple, Five Rathas, Arjuna's Penance, Alamparai Fort, Tiger's Caves, Sadras, and the Crocodile Bank.
5. Ooty, Tamil Nadu
It's one of the most popular honeymoon destinations in South India. Honeymooners from all over the country visit this lovely place throughout the year. There are several things to do here as well, such as trekking and angling. Oh, and don't forget to visit the tea gardens.
Home to mighty rock mountains, the thrilling Nilgiri Mountain Railway, refreshing gardens, and dangerous hairpin bends, Ooty never fails to charm the travelers with its magic.
The Toy Train, covering a distance of a total of 46 km in a span of 5 hours, takes one through a truly spectacular journey filled with picturesque views en route.
Ooty Lake lies at a distance of approximately 2 km from Ooty city in the district Nilgiris. The beautiful lake is spread over an area of 65 acres.
Rose garden lies in the heart and soul of Ooty. The construction stays to be magnificent, and there are small tunnels made wherein the roses are planted.
What is the best time to visit Ooty?: The best time to visit this beautiful hill station is from October to June. In these months, the temperature remains somewhere around 25°C which offers pleasant weather. It is the best time for traveling and sightseeing.
Most-visited attractions near Ooty: Ooty Botanical Garden, Rose Garden, Ooty Lake, Ride the toy train, Doddabetta Peak, Dolphin's Nose, Thread Garden, Kalhatti Falls, Emerald Lake, and Kamaraj Sagar Dam.
6. Kodaikanal, Tamil Nadu
Lose yourself in the mesmerizing beauty of the rolling hills shrouded in the alluring mist and dense forest of Kodaikanal.
Literally translating into "the gift of the forests", Kodaikanal is one of the richest blessings of nature that the state of Tamil Nadu has received.
Enjoy the eternally pleasant weather of the area as you trek to Green Valley View or Dolphin's nose, where you can admire the scenic panoramas of this natural wonderland, or immerse yourself in the serenity of Kodai Lake or Berjarim Lake.
The Bear Shola Falls is a popular tourist spot in the region. This cascade is a seasonal attraction that comes to life to its fullest during the monsoons.
What is the best time to visit Kodaikanal?: The best time to visit Kodai is during the early summer or winter season. Do not ever try to go during the rainy / monsoon season or there is a forecast for rain during your travel.
Most-visited attractions near Kodaikanal: Pillars Rocks, Kodai Lake, Coaker's Walk, Green Valley View, Bear Shola Falls, Devil's Kitchen, Dolphin's Nose, Bryant Park, and Berijam Lake.
7. Gokarna, Karnataka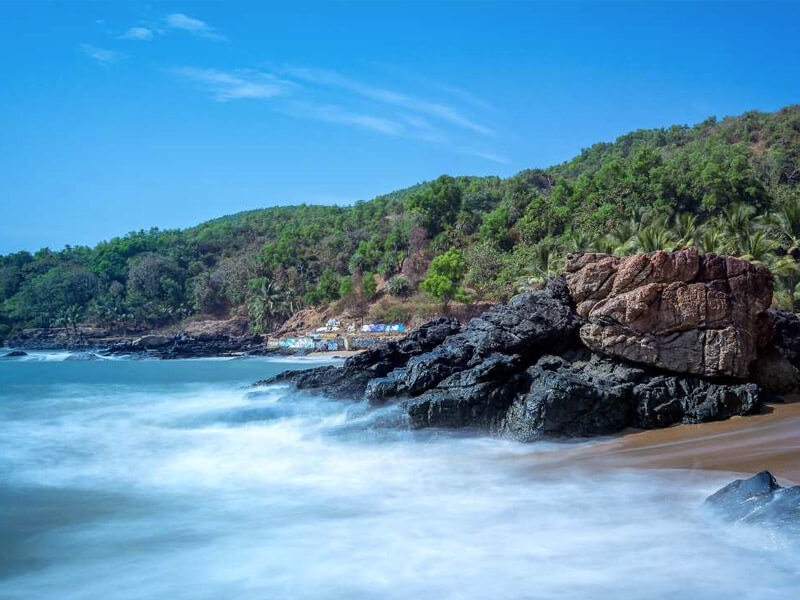 Gokarna is a town on the Arabian Sea, located in Karnataka. A small holy town situated on the Western Coast of India, Gokarna is known for its untouched beaches and is great for a relaxing holiday.
A toned-down version of Goa, take along with your beach hat, some sunscreen, and a volleyball for a great time!
It is a Hindu pilgrimage destination, with a number of sacred sites including the Mahabaleshwara Temple and Koti Teertha. Gokarna is often metaphorized as a 'crowd-less Goa.'
The places have many amazing beaches Om beach, Kudle Beach, and Gokarna beach with exciting water sports.
What is the best time to visit Gokarna?: The best time to visit Gokarna is from October until March when the weather is warm and pleasant with temperatures averaging 32 degrees Celsius.
Most-visited attractions near Gokarna: Om Beach, Mahabaleshwara Temple, Kudle Beach, Gokarna Beach, Yaana, Half Moon Beach, Koti Tirtha, Paradise Beach.
Please share your favorite place or feedback through the comment box!