Colorado is a destination that has always been on the top of the bucket list of the majority of travelers. It is due it being perfect for every kind of globetrotter, whether an adventurer, nature lover, or any other kind of roamer. There are many hubs that are a must-see in Colorado, and you must ensure that you have already given a glance at these. Colorado hails with the ability to serve a perfect fusion of attractions on a single platter.
While planning your trip to Colorado, you might have been thinking about what is Colorado known for? Well, honestly, there is not solely one but a plethora of things that this destination has to offer. You being a traveler would have to personally visit this place if you need to get its introduction in the best possible manner. This place is not only meant for the solo traveler, but for a family too. It is because you will spot an array of things to do in Colorado with kids so that these youngsters could enjoy at their utmost.
15 Must-visit Attractions in Colorado, USA
There is an existence of multiple options associated with the top things to do in Colorado. Make sure that you are participating in each one of them so that you have the best experiences of your life while being in Colorado.
Spend your time at the winsome Colorado attractions and make yourself ready to gain fun like none else. Here's a guide to 15 must-visit attractions in Colorado, USA:
Rocky Mountain National Park
This national park is established outside Estes Park and has been the favorite, especially amongst adventure lovers and nature enthusiasts. Colorado in the summer looks way too beautiful, and thus, you can visit the Rocky Mountain National Park to experience its winsome aura. However, you can also experience this beauty during wintertime since it's accessible all year round. Try out the amazing camping, biking, horseback riding, and water sports activities here.
Breckenridge
Breckenridge is a destination that perfectly suits the interests not only of the adventurers but also nature lovers. It is considered to be a mountain town and ski resort accompanied by a lot of history. Summit County has always looked upon it as its oldest, as well as the largest town. There are 250 buildings that have enabled this destination as a majorly favored one by many tourists. Feel free to expect innumerable festivals, galleries, attractive shops, and art events held here all around the year.
Glenwood Hot Springs
The Glenwood Hot Springs house the largest outdoor mineral pool in the world. The experiences there are amazing, and you would never even want the time to spend here to end. The pool is way too extended and has a length equal to approximately two city blocks. It is accessible all throughout the year, and you can enjoy waterslides, kiddie pools, and waterslides during summertime. This hub is thus much crowded and a place for the people, especially during the Colorado summer vacation.
Hanging Lake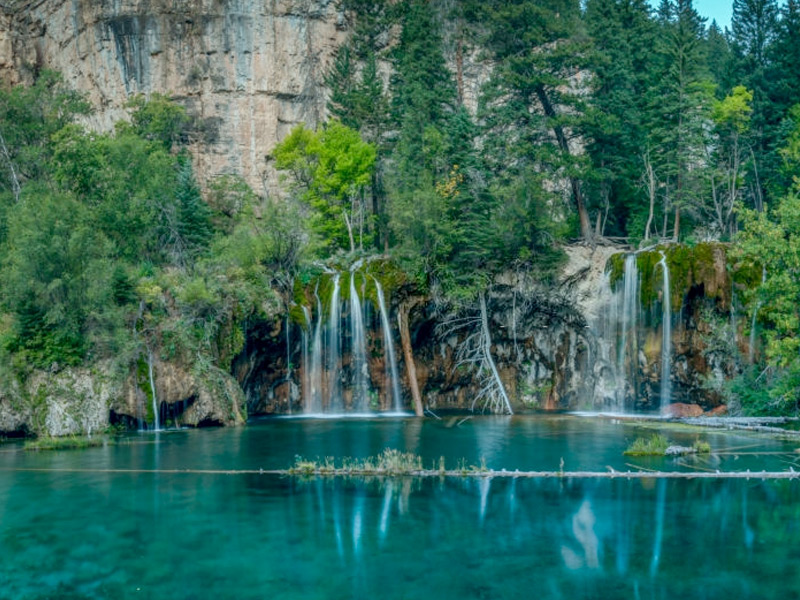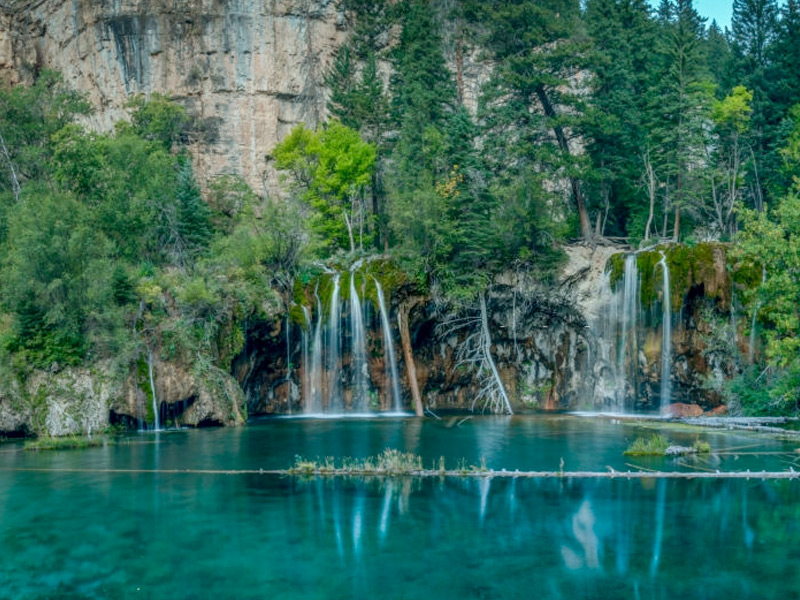 The name sounds intriguing, right? Well, it is as interesting as it sounds, and thus, if you are present in Colorado, the Hanging Lake is worthy of your visit. Tourists from all across the globe consider it as a beloved spot for hiking. The hike is steep, as well as rocky. Thus you would have to get ready for facing its toughness. Apart from that, you will witness a very unique and beautiful geological feature comprising of a hanging garden plant community. Wait no more and consider this destination amongst your bucket list of things to do in Colorado this weekend.
Mesa Verde National Park
Are you thinking about what to do in Colorado? If yes, then you can choose the mighty natural settlement that is none other than the Mesa Verde National Park. This beauteous place is tucked in southwest Colorado and got tagged as a national park in 1906. It houses a good number of very ancient Puebloan cliff dwellings. Take out your cameras and start capturing this gigantic setup while walking amidst its rustic charms. Do not forget to enjoy the excellent views provided by the Mesa Top Loop Road here.
Black Canyon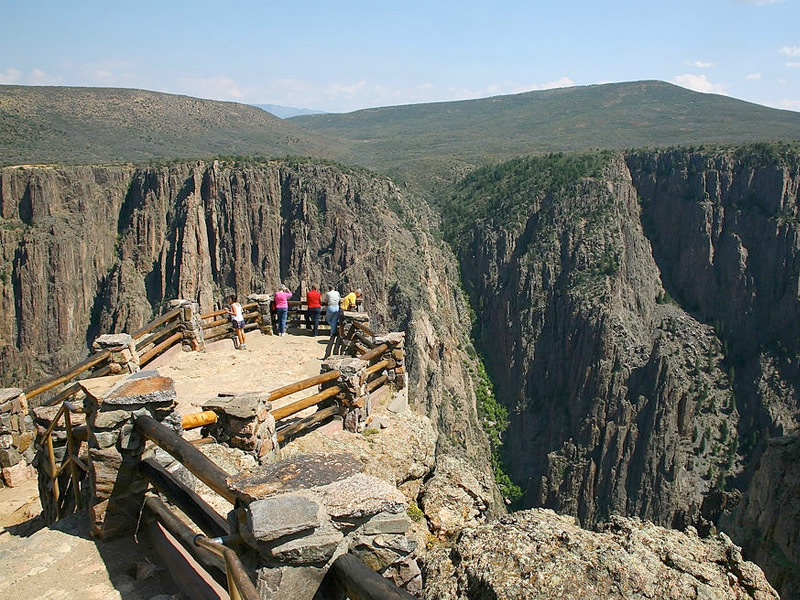 The list of most perfect places to see in Colorado is never complete without the presence of Black Canyon in it. It has been marking its existence for over two million years and was formed by the Gunnison River. Do not forget to gain an opportunity of experiencing the raw nature at its best at the Black Canyon. Watch out for the breath-taking vistas, many cliffs, and many mesmerizing views. The happiness, serenity, and positivity that you'll gain via Black Canyon couldn't be compared with anything else.
Colorado Trail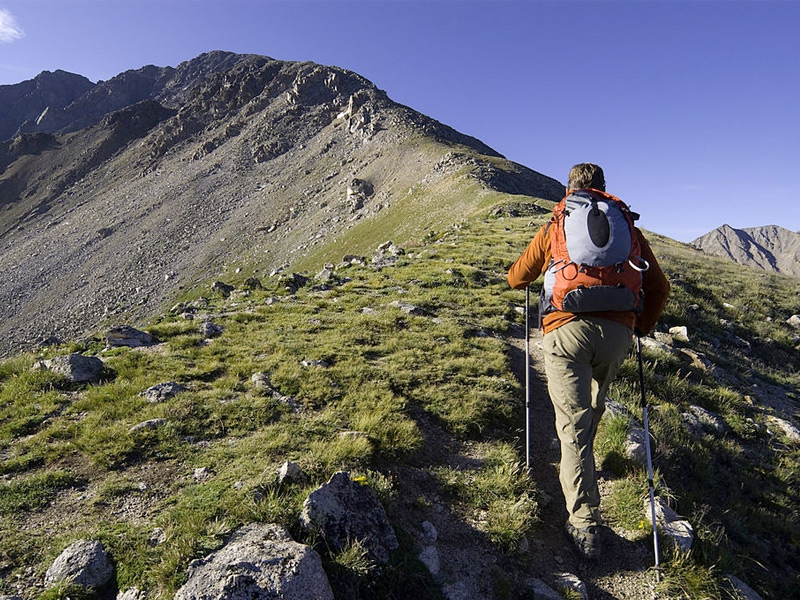 There are many mesmerizing things to see in Colorado, and the Colorado Trail is the most renowned out of them. To gain the best experience to be remembered for a lifetime, nothing's best than walking amidst it. The Colorado Trail expands across a notable area of about 500 miles. Pick up your own starting point and kick off your trail as per your convenience. During this trial, you will pass across many mighty mountains (8 ranges), lakes, and other natural sceneries. If you do not intend to walk, feel free to opt for a horseback ride or a mountain bike.
Pike's Peak Cog Railway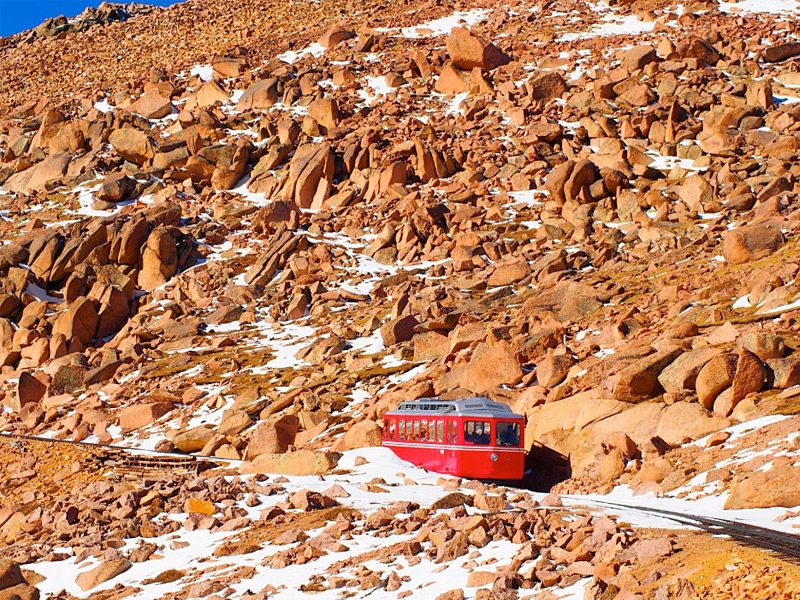 The Pike's Peak Cog Railway promises a distinct experience, and it's available for visitors all year-round. Mentioning about the best things to do in Colorado in the summer and things to do in Colorado in the winter. Such a beautiful ride facilitating you with abundant heart-stealing views along with the beauteous aura, everything's going to be perfect. You would be awestruck to know that the very famous song ''America the Beautiful" was inspired by this highest cog railroad in the world.
Mount Evans Scenic Byway
There are a good number of engaging Colorado tourist attractions, but the beauty of Mount Evans Scenic Byway leads everywhere. It is quite noteworthy that this destination maintains its space as North America's highest paved road. The Mount Evans Road is located at a high elevation of about 14,310 feet. This road will pave the way for you towards the top of the mighty Mount Evans. Say hey to many mountain goats and bighorn sheep while passing along the beautiful rock formations and alpine lakes.
Paint Mines
Just in case you intend to get some glimpses of the bizarre ecosystem of Colorado, you can head towards its very beautiful paint mines. These mines are inclusive of incredible terrains and, thus, are a limelight stealer for every kind of traveler. Many have also counted these mines amongst the cool things in Colorado. But why such a name? It is because of their appearance that is way too colorful, and thus, these serve as a delight to everyone's eyes.
Denver Museum of Nature and Science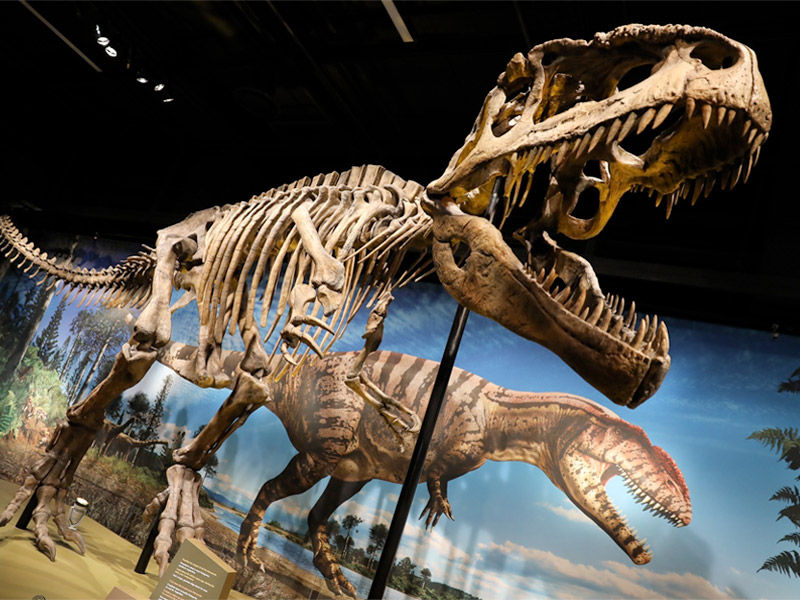 If you are looking out for something with a cultural touch, nothing's as perfect as the Denver Museum of Nature and Science. This amazing and really engaging site is considered to be a very famous cultural institution for a span of over 100 years. It promises a variety of fun-filled options and solves some of the most important educational purposes of the visitors too. Denver Museum has an IMAX theatre, exhibitions held annually as well as a gigantic planetarium.
Buffalo Bill Museum and Grave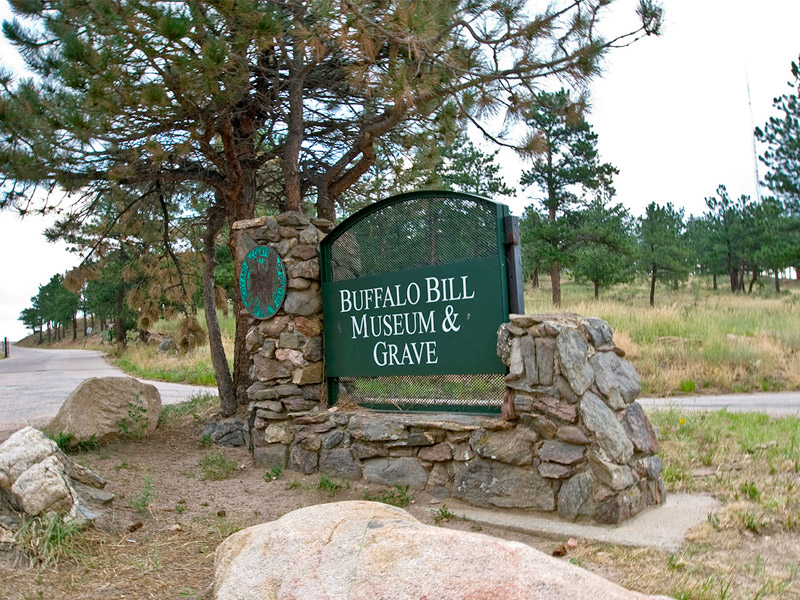 It is entailed that Colorado played an indispensable role during the westward expansion of the US. During this time, Buffalo Bill had a remarkable identity and also, it has been fascinating many people since then. He ran the Wild West Show and, after some years, died at Colorado's Lookout Mountain. His commemoration was done at the Buffalo Bill Museum. Here, you'll be able to see his firearms, information about Buffalo Bill days, and artifacts belonging to Native America.
Celestial Seasonings Tea Factory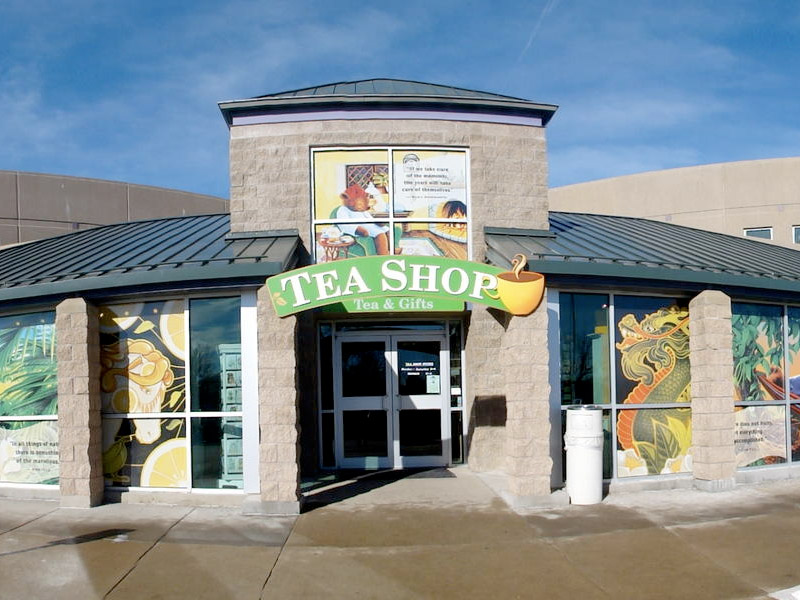 On reading out the name of this beguiling hub, you might have thought that it's going to tell you about the creation of tea. Yes, this activity undoubtedly exists, but that's not the sole one. It is definitely one of the fun things to do in Colorado, and thus, you must mark a visit at the Celestial seasonings. There are many unique attractions seeking your attention, such as the art gallery, herb garden, Celestial café, and the Mint room.
Dinosaur National Monument
Spending your time in the natural and highly ancient Dinosaur National Monument has gained favoritism from many travelers. It is situated on the northern border sandwiched between Colorado as well as Utah. Its beauty and historical charm are incredible, and you would love your time here. Mentioning about the best things to do in Colorado and not entailing about Dinosaur National Monument stands unjustified. There are more than 1500 fossils present in the Quarry Exhibit Hall.
Cheyenne Mountain Zoo
There are plenty of Zoos present all around the world, but the Cheyenne Mountain Zoo is something different. It is way too popular, and obviously, there would be an existence of unique characteristics behind such fame. This Zoo is established at an elevation of 6,800 feet. You can try out amazing fun-filled activities at the Cheyenne Mountain Zoo, and these include feeding the giraffes, spot an aviary of free-flying birds, take a ride on an open chair-lift and see many species in the wild.
What is the best time to Visit Colorado, USA
The tenure from June to October is considered to be the best time to visit Colorado. It is during such a warm season when you'll able to witness this destination at its best. During the month of June, snow melts, and thus, you can try out the hiking activities and adventure here. Not to forget about sightseeing in Colorado that can be done at its best during this time period.
Conclusion:
Colorado hails with an immortal beauty that would just sway away your heart along with its beauty! You'll never get bored with such a mesmerizing place that has so many things packed just for you. Its beauty and other exploration worthy elements are more than enough to draw the attention of tourists from the nooks and corners of this globe.