The Golden State, California has NINE national parks spread out more than 600 miles probably the most of any other states in the USA.
The sheer diversity of landscapes, dynamic flora, granite rock formations, lush meadows, wild desert, groves of the tallest trees on earth, volcanic peaks and remote island sanctuary, makes California's National Park so special and worth to visit.
Plan your trip with this in-depth guide to California's best national parks, including the best time to visit and things to do and see.
Best National Parks in Northern California
1. Redwood National and State National Park
Redwood National and State Park is an American National Park and a UNESCO world heritage site located north of San Francisco and close to northernmost coastal California.
The Park is home to the world's tallest trees – the redwood trees. Nature at its best, here you also have grassland prairie, indigenous flora, and fauna, rivers, and stream.
When to visit The Redwood National and State Park
Arrange visits during the day, as it's tough to make your way through the park at night. Summer is the best time when there's less rainfall, warmer temperatures
Things to do and see in The Redwood National and State Park
Fern Canyon, tall trees grove, prairie creek, Lady Bird Johnson Grove trail are the main attractions.
Drive the Newton B. Drury Scenic Parkway: This 10-mile road cuts through the center of an old-growth forest in Prairie Creek Redwoods State Park. If you'd like a more immersive experience, jump out and go for a hike in one of the numerous trailheads, such as Big Tree Wayside and Ah-Pah.
Hike to Fern Canyon on James Irvine Trail: A beautiful yet easy 4.5-mile hike (one-way) through Prairie Creek Redwoods State Park to the beach at Fern Canyon.
Ride Trees of Mystery: The Trees of Mystery comes with a 0.8-mile interpretive trail, over 50 wooden chainsaw-carved sculptures, and the main attraction, the SkyTrail gondola ride, which provides a Bunyan-esque perspective of the forest from 130 feet above the earth.
2. Lassen Volcanic National Park
Located at North-eastern corner of California, near Redding and Susanville city, Lassen Volcanic National Park hosts each of types of volcanos – shield, composite, cinder cone, and plug dome. The park is famous for its Lassen Peak, the largest plug dome volcano on earth.
You can explore the meadows freckled with wildflowers, plopping mud pots, clean mountain lakes, bubbling pools, roaring steam vents, and numerous volcanoes.
When to visit Lassen Volcanic National Park
Summer and fall (From mid-July to mid-October) will be the best time to visit the volcanic areas when the snow melts. In the winter, the majority of the main roads are closed because of snow. Nonetheless, you're still able to enjoy snowshoe hikes and cross-country skiing at the southern and northern entrances.
Things to do and see in Lassen Volcanic National Park
Hike through Bumpass Hail Trail: It's the most significant section of hydrothermal activity with bubbling mud pots and tons of informative stuff in regards to the geothermal activity happening in the region. The trial is beautifully scenic, with mountain views, including a perfect view of Mt Lassen around a lake at the same point.
Explore beautiful Manzanita Lake: Absolutely beautiful lake having an adjoining campground and cabin. You'll get the park's definitive view of the 10,457-feet Lassen Peak, especially in the morning. You can also rent a paddle-board and kayak.
Devil's Kitchen: From the Warner Valley Trailhead, the 4.2-mile round trip Devil's Kitchen Trail spans meadows and marshes before reaching its namesake hydro-thermal area – that the park's next largest.
Best National Parks in Central California
3. Yosemite National Park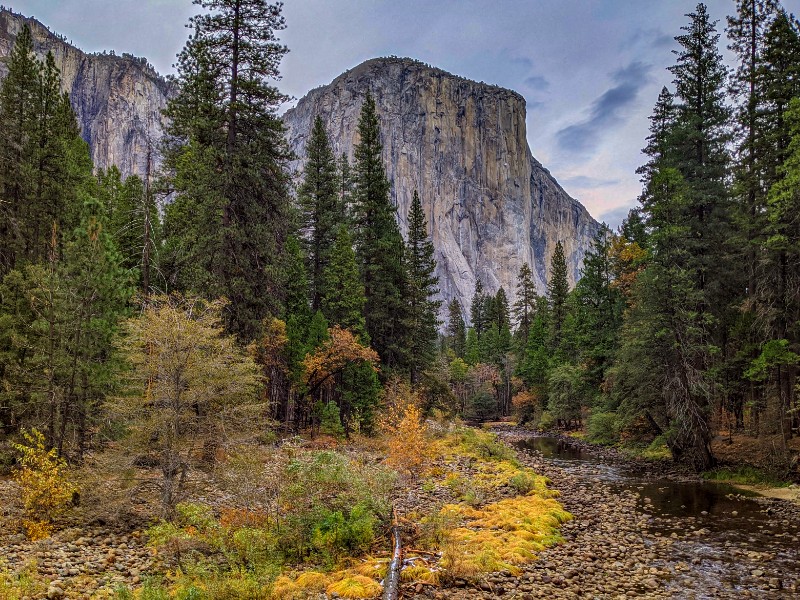 With 4.4 million visitors annually, Yosemite National Park is one of the most popular and visited National Parks located in eastern central California, close to the surrounding Sierra Nevada gateway towns.
The Park is so huge, covering over 1,100 square miles, Yosemite famous for its towering waterfalls, granite cliffs, millennia-old Sequoia trees, mountains, lakes, and more. Despite its size, the majority of the tourist activity takes place within the 7-square-mile area of Yosemite Valley where you find the park's most famous landmarks – Half Dome and El Capitan.
When to visit Yosemite National Park
May and September would be the best time to go to Yosemite when the park is not too crowded. Aside from fewer crowds, May is the best time to visit the park, especially for free-flowing waterfalls.
Things to do and see in Yosemite National Park
Yosemite is an outdoors lover's dream. Find the best overlooks, rock-climbing mountains, day-hike trails and trees!
Yosemite Falls: At 2424 feet, Upper, Lower, and Middle Yosemite Falls combined make up the highest waterfall in North America and a major attraction in the park, located in the central Sierra Nevada mountain range of California.
Half Dome: This granite dome is Yosemite's most popular and photographed landmark. Also, Hiking Half Dome Cables Route is very strenuous but an incredibly rewarding journey.
Tuolumne Meadows: It is Sierra Nevada's largest high-elevation meadows at 8,600 feet located in the east section of the park accessible from June to October. You can experience plenty of scenery including lush forests, windy, scenic mountainscapes, tree species, and bubbling river.
El Capitan: It is the largest single piece of granite from El Capitan Meadow and a hotspot for daredevil rock climbers, which stretches roughly 3500 feet from the base to top.
Find out a handy guide and must-see attractions in Yosemite National Park.
4. Pinnacles National Park
Located east of the Salinas Valley near Soledad city, Central California, Pinnacles National Park – compact 26,000 acres. Designated as a national park in 2013, it is the youngest national park in California State offers a wide variety of activities.
This hidden gem is known for fantastic rock formations, intriguing caves, the rich diversity of wildlife and variety of spring wildflowers. The park has been split into two East and West Districts connected by trails. West gate entrance is the best as the scenery is so spectacular.
When to go to Pinnacles National Park
May to October is the best to time to visit Pinnacles National Park when the temperature is warm. Hiking is at its best during the spring when the grasses are green and variety of wildflowers can be seen along any trail.
Things to do and see in Pinnacles National Park
Explore a Talus Cave: The Bear Gulch Cave is closer to the east parking areas, and the Balconies Cave is closer to the west entrance; are two talus caves at Pinnacles. Talus cave is a unique cave formation which is narrow canyons filled in with boulders from the cliffs from above.
Hike Moses Spring Trail: It is a 0.9-mile one-way trail takes visitors up 377 feet of elevation gain to Bear Gulch Reservoir via Moses Springs. You can enjoy Sky-high volcanic structures line the trail, which comprise several easy-to-navigate caves.
Bird-watch close to 200 different species: From the California Condor, a nine-foot wingspan, bald head and the largest North American land bird, to the Acorn Woodpecker, you can find almost 200 other different species, including turkey vultures, golden eagles, hawks, and peregrine falcons.
Rock climb a towering peak: There are dozens and dozens of routes on each side. But, west side the rocks are higher, the routes are somewhat more challenging and also the soft volcanic breccia is significantly more flexible compared to granite – making it a better choice for advanced climbers.
5. Sequoia National Park
Sequoia National Park is an American national park known as "A Land of Giants" located about eighty miles east of Fresno, California at Tulare County.
Huge mountains, rocky foothills, deep canyons, vast caverns, and the world's biggest trees: Sequoia National Park encompass a number of the most majestic sights anywhere on the planet. Every year, more than 1 million people visit to see the magnificent and majestic trees at Sequoia.
When to visit The Sequoia National Park
It is an all-year Park, However, June through August is the best time to visit, when the weather is stable. December is quite challenging when it snows, so please bring with you the necessary gear and accessories.
Things to do and see in The Sequoia National Park
Besides Trekking, camping, fishing, Fishing and Back-packing, these appeals are high lights using lots of park people:
Take a Drive through a Fallen Giant: Back in the day, situated over the Crescent Meadow Road in the Giant Forest, The tunnels were cut into living giant sequoias along with their cousins, coast redwoods, to create popular tourist attractions.
The Largest Tree in the World: The General Sherman Tree is the biggest on the world: 275 feet tall and with a stout, 36-foot-diameter base. You can quickly hit via a short paved trail in Giant Forest. You can also try two-mile Congress Trail, which leads to the stately President Tree.
Sleep under the Stars at the Lodgepole Campground: Camping in the mountain forest is the best idea, particularly when you pitch your tent at Sequoia National Park's 214-site Lodgepole Campground.
Go deep inside the Sierra Nevada at Crystal Cave: In Crystal Cave, the underground marble cavern is stuffed with stalactites and stalagmites. Additionally, it features all sorts of colorful minerals, forming blue, green, yellow, black, white, orange and red, which regularly surprises visitors.
Climb to the Top of a Granite Dome: The majestic granite dome Moro Rock is situated in the center of the park, at the head of Moro Creek between Giant Forest and Crescent Meadow.
6. Kings Canyon National Park
Renamed in 1940 as Kings Canyon National Park is nestled in the Sierra Nevada Mountains where giant sequoias reach the sky. The park is known for its lovely mountain meadows, swift-flowing rivers, majestic waterfalls and deepest canyons.
The white water of the Kings River is a wonderful sight to behold as it rushes be