The Golden State, California has NINE national parks spread out more than 600 miles probably the most of any other states in the USA.
The sheer diversity of landscapes, dynamic flora, granite rock formations, lush meadows, wild desert, groves of the tallest trees on earth, volcanic peaks and remote island sanctuary, makes California's National Park so special and worth to visit.
Plan your trip with this in-depth guide to California's best national parks, including the best time to visit and things to do and see.
Best National Parks in Northern California
1. Redwood National and State National Park
Redwood National and State Park is an American National Park and a UNESCO world heritage site located north of San Francisco and close to northernmost coastal California.
The Park is home to the world's tallest trees – the redwood trees. Nature at its best, here you also have grassland prairie, indigenous flora, and fauna, rivers, and stream.
When to visit The Redwood National and State Park
Arrange visits during the day, as it's tough to make your way through the park at night. Summer is the best time when there's less rainfall, warmer temperatures
Things to do and see in The Redwood National and State Park
Fern Canyon, tall trees grove, prairie creek, Lady Bird Johnson Grove trail are the main attractions.
Drive the Newton B. Drury Scenic Parkway: This 10-mile road cuts through the center of an old-growth forest in Prairie Creek Redwoods State Park. If you'd like a more immersive experience, jump out and go for a hike in one of the numerous trailheads, such as Big Tree Wayside and Ah-Pah.
Hike to Fern Canyon on James Irvine Trail: A beautiful yet easy 4.5-mile hike (one-way) through Prairie Creek Redwoods State Park to the beach at Fern Canyon.
Ride Trees of Mystery: The Trees of Mystery comes with a 0.8-mile interpretive trail, over 50 wooden chainsaw-carved sculptures, and the main attraction, the SkyTrail gondola ride, which provides a Bunyan-esque perspective of the forest from 130 feet above the earth.
2. Lassen Volcanic National Park
Located at North-eastern corner of California, near Redding and Susanville city, Lassen Volcanic National Park hosts each of types of volcanos – shield, composite, cinder cone, and plug dome. The park is famous for its Lassen Peak, the largest plug dome volcano on earth.
You can explore the meadows freckled with wildflowers, plopping mud pots, clean mountain lakes, bubbling pools, roaring steam vents, and numerous volcanoes.
When to visit Lassen Volcanic National Park
Summer and fall (From mid-July to mid-October) will be the best time to visit the volcanic areas when the snow melts. In the winter, the majority of the main roads are closed because of snow. Nonetheless, you're still able to enjoy snowshoe hikes and cross-country skiing at the southern and northern entrances.
Things to do and see in Lassen Volcanic National Park
Hike through Bumpass Hail Trail: It's the most significant section of hydrothermal activity with bubbling mud pots and tons of informative stuff in regards to the geothermal activity happening in the region. The trial is beautifully scenic, with mountain views, including a perfect view of Mt Lassen around a lake at the same point.
Explore beautiful Manzanita Lake: Absolutely beautiful lake having an adjoining campground and cabin. You'll get the park's definitive view of the 10,457-feet Lassen Peak, especially in the morning. You can also rent a paddle-board and kayak.
Devil's Kitchen: From the Warner Valley Trailhead, the 4.2-mile round trip Devil's Kitchen Trail spans meadows and marshes before reaching its namesake hydro-thermal area – that the park's next largest.
Best National Parks in Central California
3. Yosemite National Park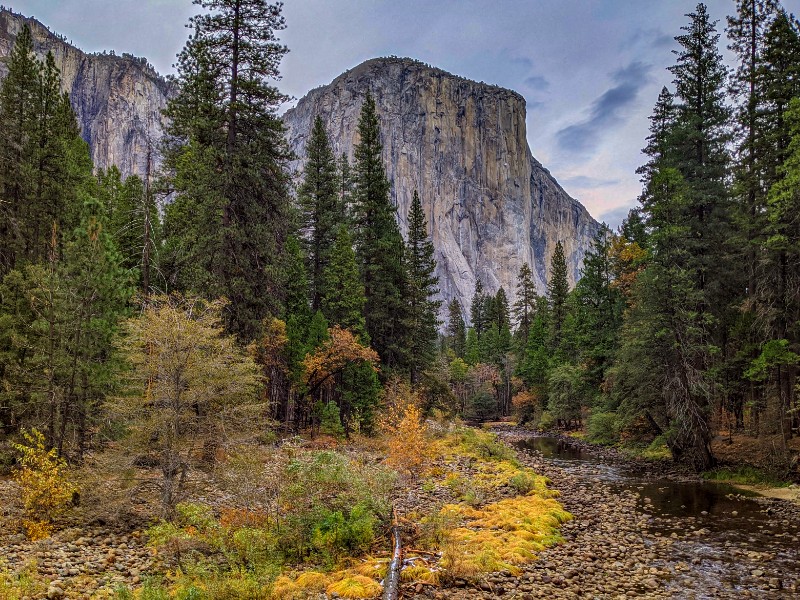 With 4.4 million visitors annually, Yosemite National Park is one of the most popular and visited National Parks located in eastern central California, close to the surrounding Sierra Nevada gateway towns.
The Park is so huge, covering over 1,100 square miles, Yosemite famous for its towering waterfalls, granite cliffs, millennia-old Sequoia trees, mountains, lakes, and more. Despite its size, the majority of the tourist activity takes place within the 7-square-mile area of Yosemite Valley where you find the park's most famous landmarks – Half Dome and El Capitan.
When to visit Yosemite National Park
May and September would be the best time to go to Yosemite when the park is not too crowded. Aside from fewer crowds, May is the best time to visit the park, especially for free-flowing waterfalls.
Things to do and see in Yosemite National Park
Yosemite is an outdoors lover's dream. Find the best overlooks, rock-climbing mountains, day-hike trails and trees!
Yosemite Falls: At 2424 feet, Upper, Lower, and Middle Yosemite Falls combined make up the highest waterfall in North America and a major attraction in the park, located in the central Sierra Nevada mountain range of California.
Half Dome: This granite dome is Yosemite's most popular and photographed landmark. Also, Hiking Half Dome Cables Route is very strenuous but an incredibly rewarding journey.
Tuolumne Meadows: It is Sierra Nevada's largest high-elevation meadows at 8,600 feet located in the east section of the park accessible from June to October. You can experience plenty of scenery including lush forests, windy, scenic mountainscapes, tree species, and bubbling river.
El Capitan: It is the largest single piece of granite from El Capitan Meadow and a hotspot for