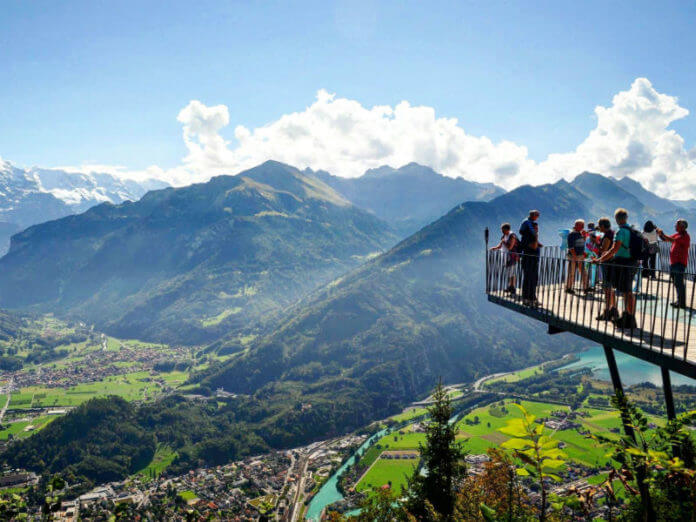 If you are striving to gain utmost fun and witness the best of Switzerland, nothing's best than Interlaken. This splendid destination has a plethora of things to offer for its roamers. The magnificent scenery, mesmerizing views, thrilling adventures and the engaging history, everything's so perfect in Interlaken. Nothing can beat an idea of spending your weekend in Interlaken with your loved ones.
Get set to feel like never before while being indulged in the interesting activities here. It is continually acting as a sheath especially for those who strive for serenity along with a pinch of adventure. Interlaken Switzerland is majorly prominent for its immortal beauty including the snow-capped mountains, alpine villages and crystal-clear lakes. This beautiful hub is sandwiched between Lake Thun and Lake Brienz and, bounded by the mighty peaks.
While being here, you are going to be a part of a whole amalgamation of touring options. You'll have to choose the best according to the time as well as your budget. Are you confused while thinking about the top 10 things to do in Interlaken, Switzerland? If yes, then feel free to have a glance on the below suggested touristic options that you must try out:
Explore the 10 things to do in Interlaken, Switzerland
1. Exploration of the Heart-Stealing Town:
Whenever you intend to visit Interlaken, make sure that exploring this beautiful town is set on your priority list. It is literally worthy of being admired and that too on your foot. You can commence the walk right from the Schynige Platte Botanical Alpine Gardens and conclude it at the St. Beatus Caves. Each and every element present here is charismatic and accompanied with a pristine aura.
During this tenure, you are going to pass amidst very beautiful natural settlements and feel refreshed yet again. At the Botanical Alpine Garden, you'll be able to get up close and communicate with the nature. While on the other hand, the St. Beatus Caves will enable you witness its stunning chambers and majestic underground falls.
2. Immerse in the Views of Interlaken from Harder Kulm
Nothing can be compared with the spectacular views of Interlaken and the two lakes that Harder Kulm offers. It is located at an elevation of 1,322 meters. You can graciously look down upon Lake Thun as well as Lake Brienz along with the admirable beauty of the town.
Also, enjoy the scrumptious meals facilitated at the Harder Kulm Panorama Restaurant. It resembles a castle and while having some food there, you would feel no less than a king. There exist innumerable Interlaken attractions activities and paying a visit to Harder Kulm is one of them. This tour operates from April till December and promises a heavenly feeling at its best to the visitors. You have to just assure your seat in the cable car and ascend the gigantic mountains of the Interlaken.
3. Participate in an Engaging Cruise on Pristine Lakes
Interlaken is always referred as a home to the two most important lakes of the world. These are none other than Lake Thun and Lake Brienz. Each one of them is turquoise blue in colour and the clarity that they offer showcases the purity present. This will surely prove as one of the apt Interlaken activities summer.
Enjoy the boat cruise on the clean waters of these lakes and experience some peace of mind. The glacier waters are more than enough to fill up your day with refreshment and satisfaction. You are going to pass through many teeny-weeny picturesque fishing villages settled nearby. They entail the stories from the past and give you a feeling of being in the bygone era.
4. Take out the Superman in You with the Adventure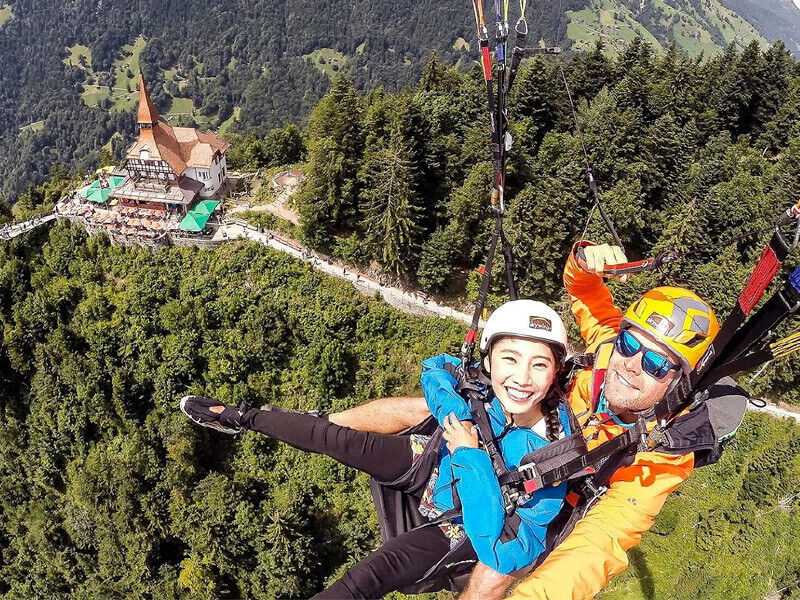 Your inner thrill seeker is worthy of being brought out and this is done with the adventure activities in Interlaken. It is a hub of daring as well as adrenaline rushing activities. For those who have always wanted to take risks and experience a bit of action in their life can try out these. Choose from a huge variety of water-based activities such as canyoning, paragliding and white-water rafting.
Also, you can experience the fun of falling off from a great height here. Go up in the sky and jump towards the land via a plane or helicopter. The feeling is going to amazing and unforgettable too! Mentioning about the most favoured things to do in Interlaken Switzerland winter, you can include skiing, night sledding and ice climbing in them.
5. An Epic Ride via Europe's Highest Railway Station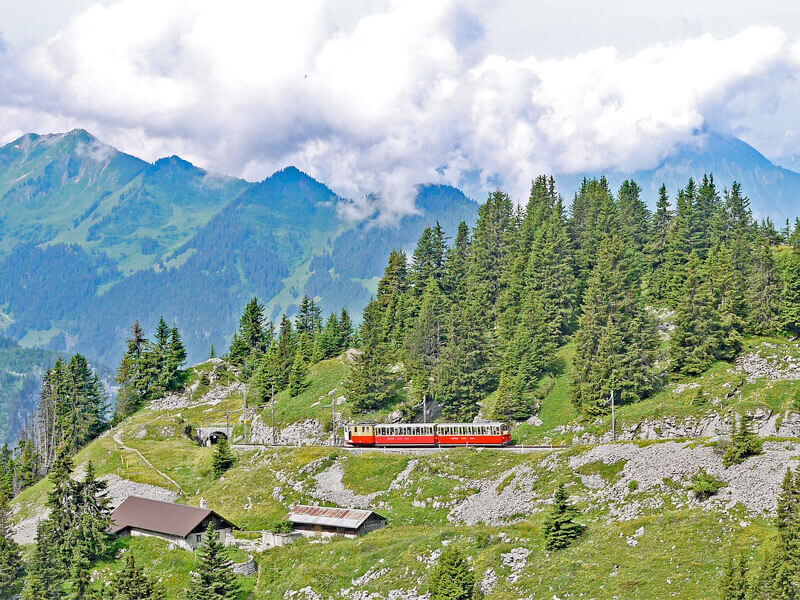 Nothing can be compared with the enjoyment that prevails in the rail journeys. Get set to experience the beauty at each step during your train tour. The departure point would be the ravishing Interlaken Ost railway station. This line has been entailed as marking its existence for 100 years till the present time.
All along the route, you will be left awestruck with the abundant landscapes swaying your heart along with their beauty. The concluding point is going to be the Jungfraujoch saddle tucked at an elevation of 3,466 metres. It is worldly prominent as the highest railway station in Europe. Also, it contains a stretched tunnel having a length of approximately seven kilometres. Such a ride has always proved as a perfect solution to the interrogation-Is Interlaken worth visiting?
6. Dive Deeper into the Interesting Summer Activities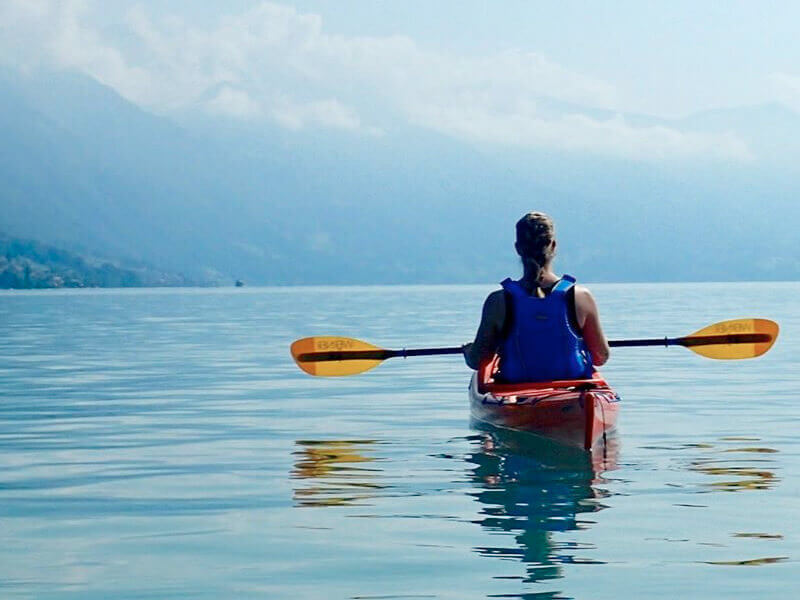 Are you still deciding about the finest tenure for paying a visit to the mesmerizing Interlaken? Well, it's none other than the months from June till September. The weather in Interlaken Switzerland in June suit the preferences of those who need to enjoy the crispy summers here. Interlaken holds some amazing number of things for the globetrotters.
Activities facilitated here for visitors include Kayaking on Lake Thun or Brienz, hiking, canyoning, paragliding and plenty others. Put on your guts and get ready to face the summer activities efficiently! Rappel yourself down the waterfalls as well as gorges in this winsome place and feel like never before!
7. Communicate with Nature at Weissenau Nature Reserve
Interlaken is continually being a success when it comes to the exhibition of its flora and fauna. The nature is present here at its best and the visitors enjoy their time here. It is definitely a paradise for nature buffs who are interested in seeing species in the wild. Offering such ample opportunities is the Weissenau Nature Reserve.
Indulge in the sumptuous views of Monch, Jungfrau and Eiger. Just in case, you show dire interest in animals, you will love to see them indulged in their routine activities. Located on a corner of a lake, this reserve is blessed with serene surroundings filled up with the chirping of birds. Walk over the wooden walkway and admire the beauty of wildflowers lying here.
8. Get Lost in the Mystic Charm of Spiez
Spiez is a heart-warming destination that is settled between the massive vineyards and gigantic hills. The magnificent castles established here entail the mighty tales from the bygone era. This site has always invited thousands of travelers from the nook and corners of the globe.
It is capable of maintaining a place amongst the very famous Interlaken tourist places marked on the world map. It is continually playing an eminent role in acting as a perfect base for winter and summers sports fans. Enjoy the warm rays of the sun and feel blessed while staying here during the wintertime. You can indulge in hiking, mini golf, fishing, skating rink, windsurfing, sailing and biking trails at Spiez.
9. Pass Across the Ravishing Panoramabrucke Sigriswil
The panorama circular trail spotted around the pristine Lake Thun has a pedestrian suspension bridge as its major attraction. It massively expands till a length of 180m and has been a 'must-visit' destination here. This bridge is known to bridge up the gap and connect two villages namely Aeschlen and Sigriswil.
While being at Panoramabrucke Sigriswil, you will be able to engross in the spellbound view of the sunset. With the lush green environment encompassing this extended bridge, you will never leave dissatisfied. The path leading to Oberhofen shall take you amidst breath-taking views from the countryside and the gorgeous blue lake!
10. Make your Own Funky Chocolates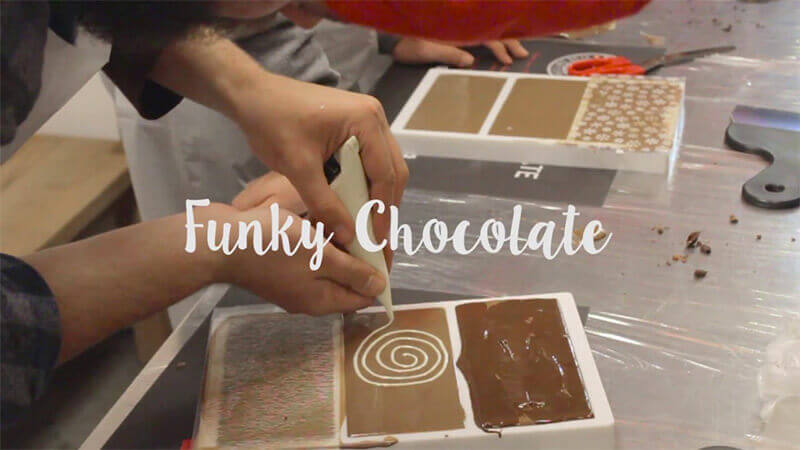 Are you just bored of the outdoor places setting their mark in Interlaken? We have got a place for you and that's the funky chocolate club! Spend some time your loved ones in its cosy environment and get to taste a huge number of chocolates. You are your own chef here! Yes, it is as amazing as it sounds.
Wear the chef hats, aprons and attain all the ingredients for chocolate making. You will be getting professional guidance from the eminent team of chocolatiers here. Learn how to mould, melt and temper a chocolate in the finest possible manner. It is quite sure that your experience here would be wonderful and a memory for forever!
Where to Stay in Interlaken, Switzerland?
Hotel Interlaken is a 4-star hotel located right in the heart of Interlaken offers you everything from accommodation, food, lounge to bar area. The rooms are absolutely stunning, with big plush beds, natural alpine furnishings and, of course, breathtaking mountain views! Take advantage of this newly renovated hotel, its prime location, and excellent food!
Located in the historical part of Interlaken, The Hotel Beau Site offers traditionally elegant accommodation and wonderful mountain views. The restaurant is highly recommended for its regional specialties and a good wine list. The town center and West Train Station are just a five minute walk from the hotel.
Money no object? Then book the Victoria Jungfrau Grand Hotel & Spa. You will find this hotel at the base of snow-capped Jungfrau between two iconic lakes. The Luxury rooms feature floor to ceiling windows, antique furniture and plenty of space. You will find an award-winning restaurant offering a variety of cuisines, and a top of the range spa, pool, and fitness center. The established spa specializes in health and anti-ageing. Fabulous.
Conclusion:
There are innumerable things in Interlaken that one can be a part of! However, the above listed are just the best and you must experience their divine beauty. Dive deeper into the beautiful essence of the places to visit near Interlaken and get to see every bit! These intriguing spots are no less than a satisfaction and they will help you knitting an array of memories.