Birthdays have always been the most enjoyable part of every year that is worthy of huge celebrations. So, you finally did it! You are a big human marking his existence for 40 years! Aren't you just bored of the common and very monotonous birthday parties at your home or any nearby restaurant? If yes, then you have landed at the right place.
Here, we are going to suggest some very commendable places to have an enjoyable gathering on your birthday. Well, birthdays must never be boring, instead what all they must have is unlimited frolic! Yes, it's quite true that if you have a good company, the destination won't matter. But, if you have decided to spend some bucks, the venue for your birthday must be an amazing one too! The super-awesome retreats provided by a good number of destinations worldwide are worthy of being experienced.
Top 5 Destinations To Celebrate Your 40th Birthday
Have a look at these apt 40th birthday trip ideas mentioned below. They are not only going to suit your budget but also exceed your expectations!
#1. Sri Lanka
Sri Lanka is undoubtedly a paradise for every kind of traveler. Its natural environment, heart-stealing beauty, and the mesmerizing landscapes are truly a delight for every kind of traveler. Also, you can count it amongst the most ravishing 40th birthday getaway ideas. On attaining 40 years, a celebration is bound to happen! Visit Sri Lanka and knit the finest memories. Recreate some magic in your life and let your family along with you for the ride.
Things to Do in Sri Lanka
The nightlife in Sri Lanka is way too famous and you must never miss it. Try out your luck in its casinos and clubs while playing the games there. Enjoy some vodka shots and dance to the rhythm of the enjoyable music there.
How can you even forget to visit the monasteries in Sri Lanka? Commence your Colombo city tour with the Colombo National Museum. Apart from that, you can also pay a visit to the National Museum Library, Gangarama Temple, Beddagana wetland park, Bellanwila Raja, Galle Face Green, etc.
Attain the serene experience at the River Safari in Bentota. During this tour, you are going to pass amidst the massive mangrove forests on a boat. Also, do not miss out on the varied beautiful birds on your ways such as herons, cormorants, and kingfishers.
Top 10 places and must-visit attractions in Sri Lanka
#2. Yosemite National Park
Yosemite National Park is settled in California and is prominently known amongst the highly beautiful natural reserves worldwide. Mentioning about the 40th birthday destinations and not mentioning this site would be quite unjustified. To spend some time with the tranquil nature, come and explore the Yosemite National Park. It ensures a whole amalgamation of enjoyable activities perfect especially for nature buffs and adventure enthusiasts.
Things to Do in Yosemite National Park
You can start your 40th birthday celebrations with some thrill-packed adventure at Yosemite! Do some hiking at the Half Dome prevalent here. The trek is going to be a challenging one but it is way too heavenly.
Do not just forget to have some glimpses of the Yosemite waterfalls spotted here. It is amongst the tallest waterfalls in the world and you can have some fun time with your family at its base. It is entailed that the Yosemite Waterfalls are a fusion of three waterfalls namely Upper Yosemite Fall, Middle Cascades, and Lower Yosemite Fall.
The Glacier Point of the Yosemite National Park is a heartthrob! You can be a part of skiing at the time of winters i.e. from mid-December. Apart from that, there are varied other intriguing activities such as birdwatching, stargazing, hiking, walking and interpretive programs.
Must-see attractions in Yosemite National Park, California, USA
#3. Oman
Get amazed on grabbing "the old Arabia" feel while seeking for some fun during your 40th birthday! It is one of the finest 40th birthday destinations has already grabbed an eminent place in the bucket list of many travelers. Just ensure that it is present in yours too! The people here are friendly and you can gain a heart-warming welcome in Oman. Thus, you shall not have to doubt even for a single time about the beauty that lies here.
Things to Do in Oman
Talking about the most suggested things to do for your 40th birthday in Oman, they are innumerable. One of these is participating in Oman's sightseeing tour. Some of the most beautiful places to explore in Oman are Muscat, Nizwa, Jebel Shams, Salalah, Wahiba sands, and many others
You can spend your day beautifully while indulging in a 45- min walk along with the water pools at the Wadi Shab. On the completion of your serene hike, you can swim through the massive caves which lead to a winsome waterfall.
Just in case, you are a spiritual human you must not miss the Sultan Qaboos Mosque in Muscat. It is referred to as the most spiritual site and also, the architecture lovers would get fond of this site.
#4. New York City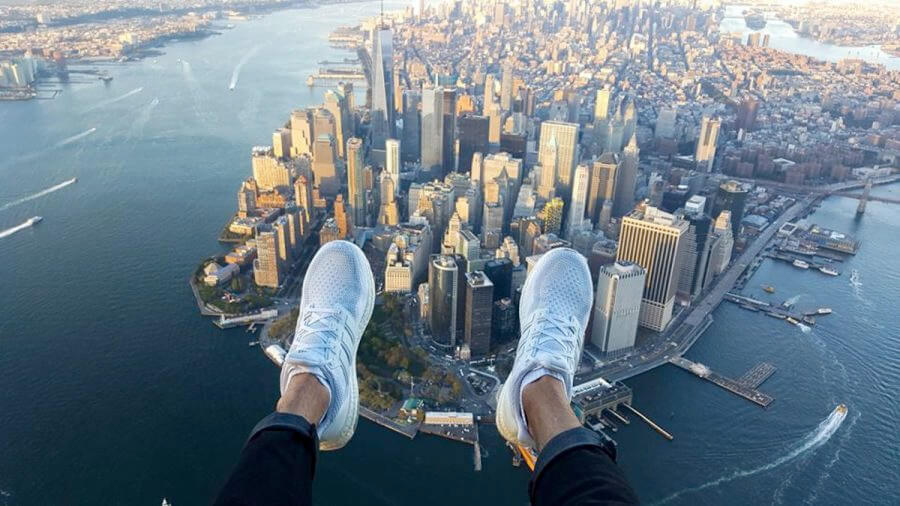 The most happening and exciting destination all across the globe, New York City is a dream destination for millions! Enjoy its vibrant nightlife and traditional festivities. Also, if you want to celebrate your day with your wife, NYC has plenty of 40th birthday trip ideas for couples too!
Things to Do in New York City?
For those who are the fanatics of NYC sports, this destination shall act as a perfect birthday hub. Have a look at the ball game along with your friends, some tasty snacks, and chilled beer.
Mentioning the most unique idea in NYC, no one must forget to mention the Broadway show here. Some might take it as an experience that is too common or touristy. But, that's not the case.
The most promising and satisfactory exclusive 40th birthday idea is New York's City Heli Tour. Enjoy a bottle of champagne on board and indulge your senses over the magnificent skyscrapers. This exquisite ride will offer the brightest sights belonging to NYC.
#5. Thailand
The foremost tourist destination tucked in South East Asia; Thailand's beauty is breathtaking. On thinking about the fun-filled ways for your 40th birthday celebration, nothing can beat the aura of Thailand. The 'Land of 1000 Smiles' has never failed to prove the meaning of its name!
Things to Do in Thailand?
Visit the gigantic gold-tipped series of buildings named the Grand Palace. The place is marking its existence for more than 200 years and is always recognized as Bangkok's most famous hub.
Play with the elephants and have a look at their routine activities at the Elephant Nature Park. It ensures you an array of good experiences along with many luxurious accommodation options!
Thailand's coastline stands unexplored till now! Thus, you can see their distinct beauty via a long-tail boat. Discover its lush-green islands and sandy beaches. Click some amazing photographs and feel refreshed yet again.
Essential Tips to Keep in Mind
The above-listed information might have vanished your confusion about the interrogation of how can I celebrate my 40th birthday. But the information doesn't just end here. While being engrossed in your 40th birthday tour you'll have to keep some important tips in mind. You just have to ensure that you follow each of them so that your journey is a hassle-free.
Have a look at some of the essential tips to keep in mind below:
Make sure that you book the birthday celebration venue and accommodation well in advance. This is because, during the peak season, the seats get booked way too early!
You must never forget to carry the copies of your passport along with you while traveling. Just in case, it gets stolen or is lost, you shall have a backup plan for that.
It is not a compulsion that every place is going to accept the credit cards! Thus, you must keep in mind that there is some local cash in your bag.
There might be some countries that are into accepting payments when the traveler enters or exits the country.
Guidebooks are way too necessary since they give detailed information about maps, keywords, and other things! You must download the travel assistance apps before starting the tour.
While traveling to other countries, you might have to pay for the roaming charges. Thus, you'll have to get your phone's global capabilities activated. This might demand some extra charges.
Before heading towards a new country for your 40th birthday celebration, you must check the voltage of your electronics.
Carrying a charger adopter is a must since different countries have different sized plugs as well as voltage.
Conclusion:
With the undeniable shift to the older years and leaving behind the younger days, you are going to celebrate your 40th birthday! Are you just always thinking about how to celebrate the 40th birthday? The above listed birthday celebration gateways must be visited. The destination birthday extravaganza and that too with your favorite people- nothing can be more perfect than this! The varied destinations in this write-up have a huge range of activities that shall suit the preferences of all ages. You must try these and there won't be even a single chance for you to ever stay in a pang of guilt!