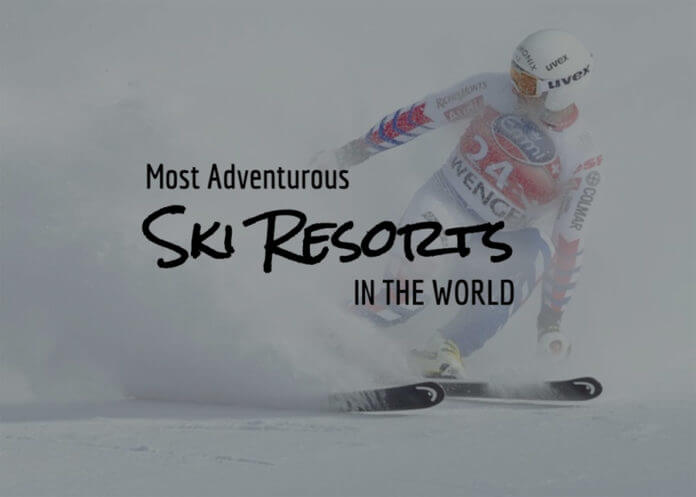 Planning a skiing vacation has a different preference for different Travelers. Where a professional skier searches for steep and slops a beginner opt for a destination with a ski school at first. Similarly, a family planned ski resort holiday should be more than just skiing, like shopping, club, and nightlife. While for a professional skier, search for snow quality and slopes.
We understand the range of demands and summarized the same in the article as the best ski resort in the world. This article will give you a clear insight on which resort will best suit you.
Top Ski Resorts in North America: Best Ski Experience Guaranteed
1. Whistler Blackcomb, British Columbia (Canada)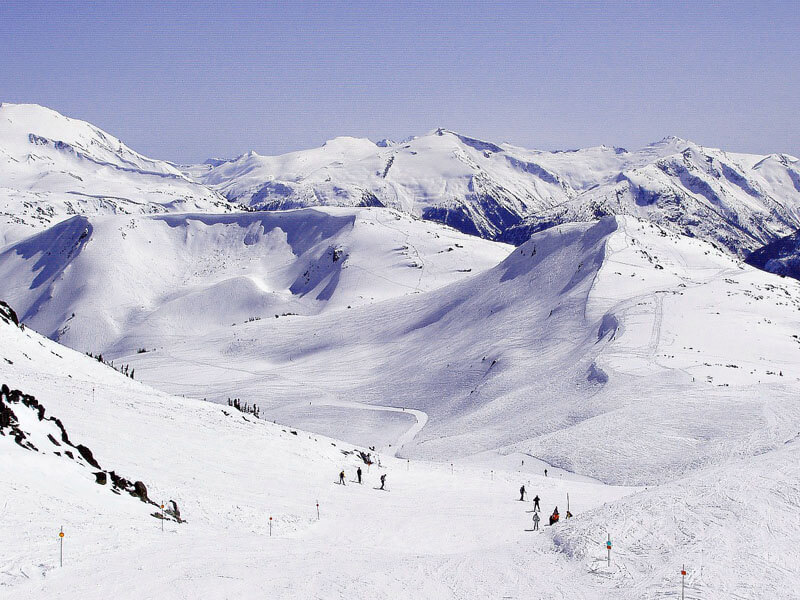 The Whistler Blackcomb snowy mountain peaks hidden away in Canada, in Whistler, British Columbia have the best ski resorts in the world. It's the biggest ski resort there is in the Northern Hemisphere. Since it's covered with snow, many people come here for the snowboarding and skiing.
This place is known for its uphill lift capacity and is, in fact, a huge ski resort that offers facilities for moving across the Blackcomb Mountains and the Whistler.
When to Go: The right time to visit these best ski resorts in Canada is either during June through August and December through March. For skiing, we'd suggest December to February, but in June and July, the mountains are opened up glacier skiing and camping or trekking outdoors. The temperatures in April and May are a little moderate so that you can spend more time outdoors.
Attractions: There are plenty of skiing and heli-skiing across the 17,000 hectares of snowy terrain. Snow tubing has been advised for the kids, while parents can relax at the Whistler Scandinavian Outdoor Spa located outside the Whistler Village. Athletes can visit the Whistler Olympic Centre.
2. Vail, Colorado (USA)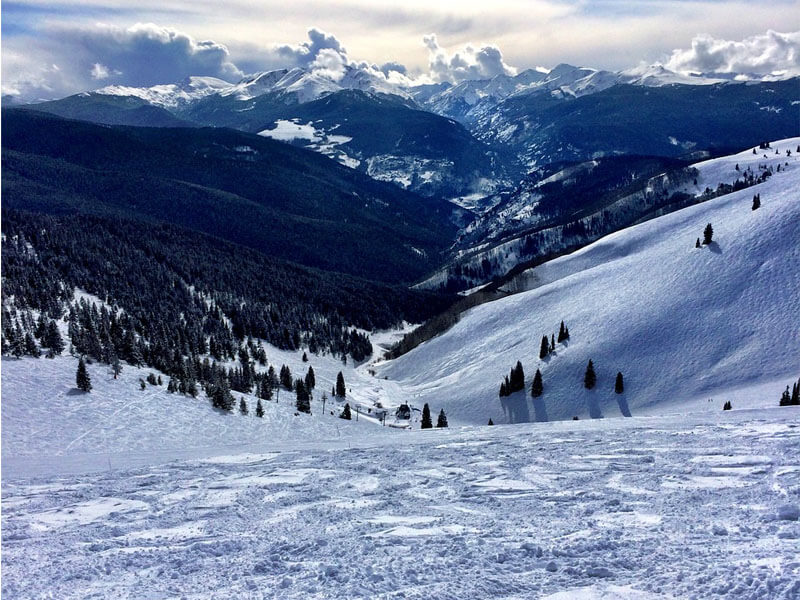 In the small town near the Vail Mountain in Colorado, you'll find the Vail Ski Resort. The town has for years been a hub for skiing, snowboarding. The place is ideal for cultural festivals, hiking and golfing during the summers. One can even enjoy fly fishing on the Gore creek that runs through this town.
When to Go: Anytime between January and February is the best time to enjoy skiing in Vail.
Attractions: In the summer and fall, you can take a chairlift ride or hike along any of the 17 paths chalked out for you. You can also plan out an epic tubing run, adventure course, zip-lining. In the 35,000 acres of forest area, you can go mountain climbing or take a walk in the Betty Ford Alpine Gardens.
3. Aspen, Colorado (USA)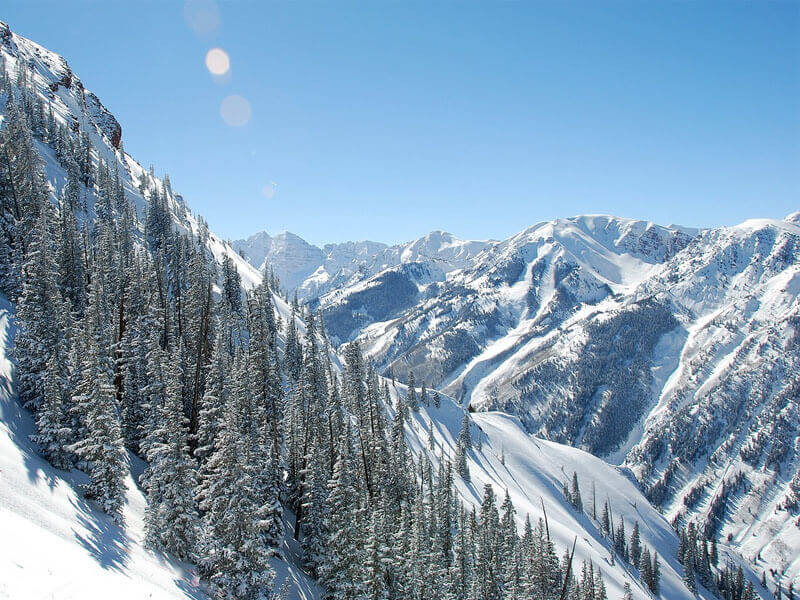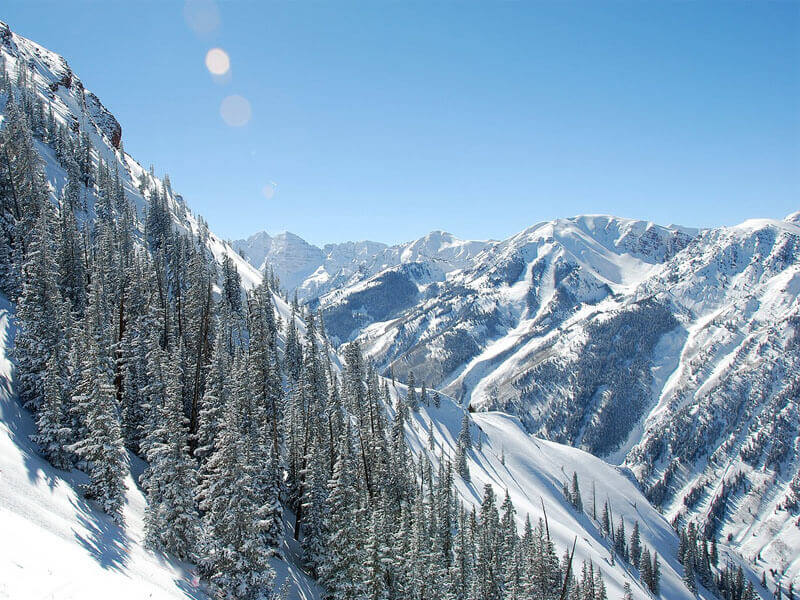 Aspen Resort also known as Ajax is a collection of 4 resorts which are collectively known as Aspen Snowmass and consider as favorite Places to go skiing in USA. Aspen got its name from the aspen tree all around the town. The resort is comparatively less crowded but a significant destination between the ski lovers. It has around 650 acres of terrain exclusively devoted for skiing. Aspen does not offer beginners level skiing as its terrain's space is bifurcated in between intermediate, advanced, and expert level only.
Its mostly visited by skiers in winter when precipitation is high. You can enjoy other activities like paragliding, hot air balloon, and ice skating during the winter season. And if you are not a skiing addict, don't worry, it has a lot more to offer you than snow carpets. Aspen is a hot favorite shopping destination for all tourist visiting Colorado. You can shop for clothing to snowboards anything. Apart from buying its day spas, hot spring bath and nightlife are equally enjoyable.
The resort offers you a wide variety of lodging suiting your budget. Its accommodations are comparatively cheaper than Vail resort without compromising any amenities offered. You can easily find affordable accommodation with breakfast option. If you are a die-hard skiing fan, this could be a great Places to go skiing in the USA.
4. Telluride, Colorado (USA)
Telluride is located in the inside a box canyon, surrounded by cliffs and mountains. It is known for its slopes and ski resorts; you need to take a gondola to the neighboring town of Mountain Village.
When to Go: Book your holiday between Mid-November to August.
Attractions: Telluride is seen as the best ski resorts in the world, as it has many trekking and cultural festivals during the summer. But it's during the winters that they get even more tourists. You have to use the gondola to access the 1700 acres of snowboarding and skiing terrain, just behind the mountain ridge.
5. Deer Valley – Park City, Utah (USA)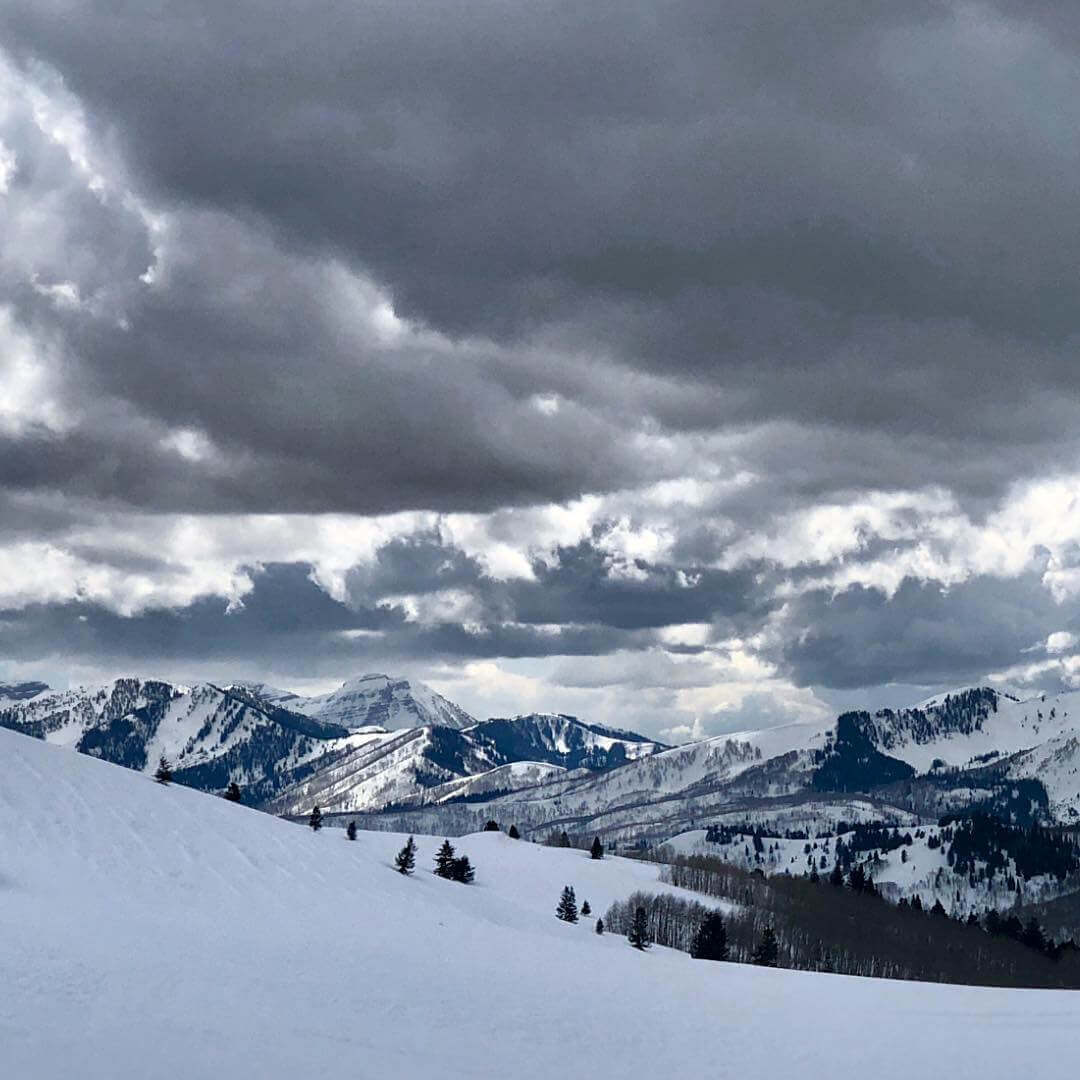 The Deer Valley is an alpine ski resort known for upscale amenities, and was even the venue for 2002 Winter Olympics and is now host to the International Ski Federation. The Deer Valley is in the Wasatch Range just 36 miles away from Salt Lake City, in Utah has some places to go skiing in USA.
When to Go: October through January is when the snow is nice and thick.
Attractions: Skiing is a luxury here in Deer Valley, where you have uniformed ski valets, well-maintained slopes, overnight ski storage, complimentary Mountain Host tours, on-site child and a ski school.
Top Ski Resorts in Europe: Might Be Costlier But Worth Every Cent
6. Courchevel, France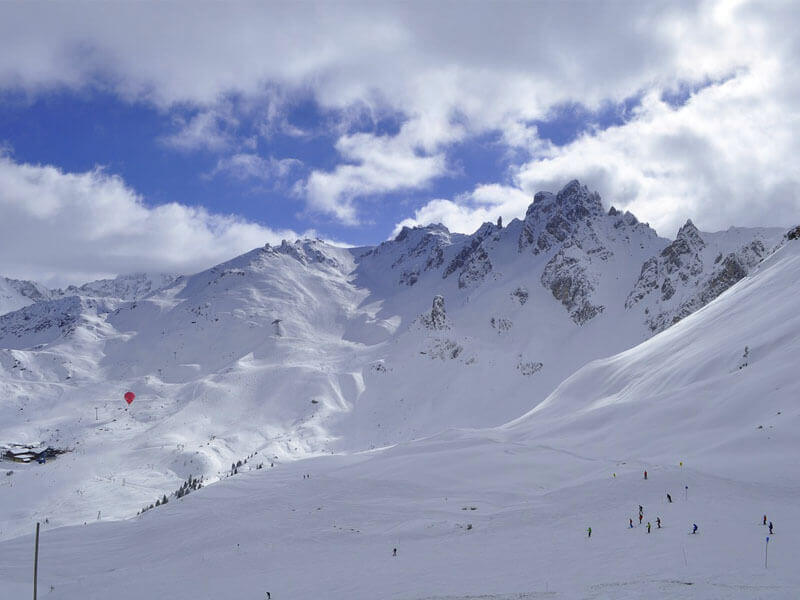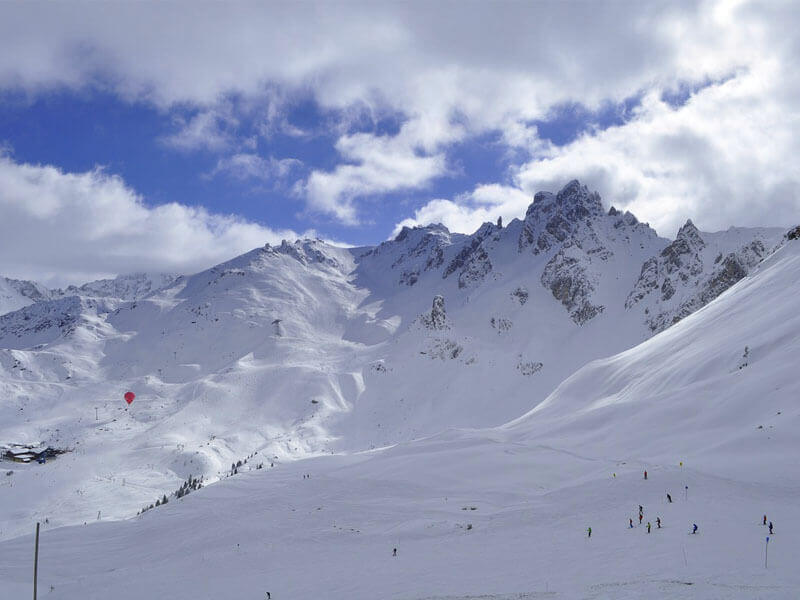 Courchevel is a French resort located in Saint-Bon-Tarentaise, France. You can reach there either by air or train. There is a direct TGV train from Moutier brides from where buses are available for Courchevel. You can also use air route from Geneva Lyon or Chambery airport. But high-speed trains are more preferred.
The resort is being spread in between three valleys and provide 372 miles of trails and slope with 198 lift interconnections. It is one of the largest ski resort in the world with the name as a billionaires winter playground. When you are planning to visit Courchevel, then skiing should be the first thing in your mind. As any hardcore skiing fan can second the opinion that it's the best skiing destination one should have visited.
Accommodations are available in wide ranges from chalets to apartments, easy enough to suit anyone pocket. It has ski schools and ski festival all around the month and worth mentioning, drinks are cheap.
When to Go: January, February, March, and April are the best times as the peaks are accessible. During late March and April, go to resorts on the north-facing slopes.
Attractions: Spread across each resort is a variety of ice rinks, heated swimming pools, husky sleighing, tobogganing, indoor sports halls and 600 km of skiing!
7. Saint Moritz, Switzerland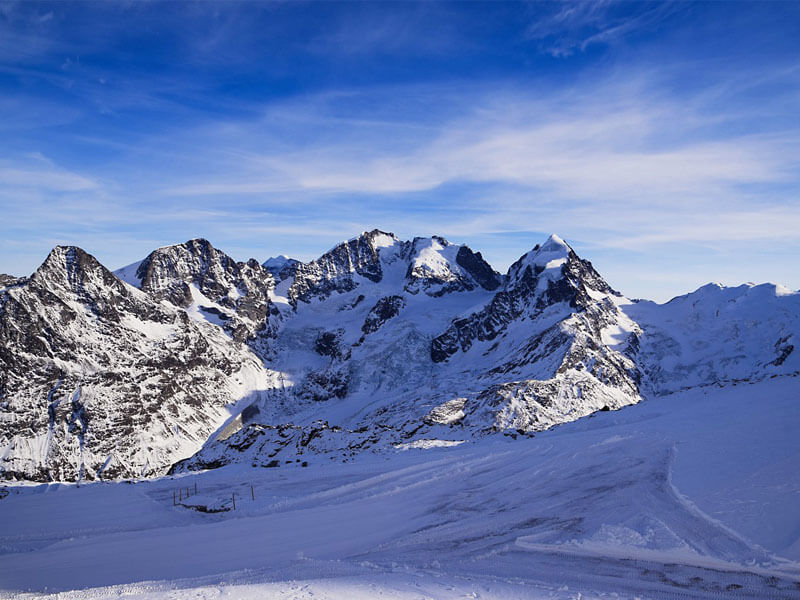 Saint Moritz has located 90 Km south to the Chur and 203 Km away from Zurich. TGV train is the best option to reach the destination. However, you can also use air route from nearby Zurich or Milan, through gateway international airport which is connected to Saint Moritz by road.
Over the years it has retained its status of the best ski resorts in Europe with its ski-diverse area. Whether you are an expert or one who has touched ski board the first time, Saint Moritz has skiing option for all kind of visitor. Ski trails are located in Corvatsch, Diavolezza, and Corviglia.
Saint Moritz offers a range of accommodation for all its visitors, but its five stars hotels have gain popularity for all good reasons. Budget will never be an issue while selecting a hotel in Saint Moritz. the resort is more of a winter resort with a steep decline in prices in the off-season.
When to Go: The summer is preferable, starting mid of June till October as there are fewer crowds. The peak season falls between December and March.
Attractions: You can enjoy winter polo on Lake St. Moritz and paintings in the Segantini Museum. Also enjoy skiing, hiking, mountain climbing, and other winter sports on the Corviglia or the Piz Nair.
8. Chamonix, France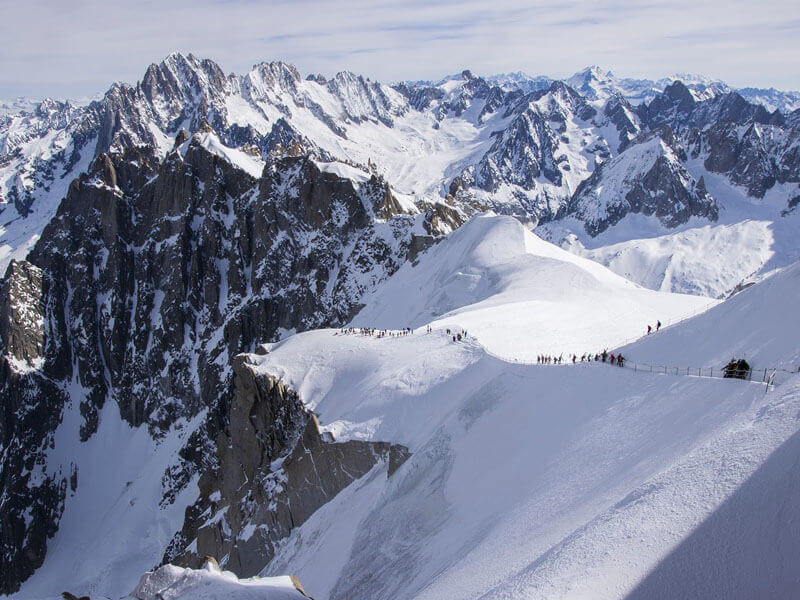 Chamonix is a southeastern France town at the foothill of Mont Blanc. With gateway airport of Geneva. You can also use the train route to reach the resort.
If you are a die-hard skiing fan, you must have heard of off-piste skiing and freeriding of Chamonix France. It has an amazing range of people trails for all abilities surrounding by surreal mountains and glaciers. Though ski areas are not lift interconnected its freeride terrain and tree skiing compensate for same.
You can visit it all four season, but winters are the most favorite. It's apres-ski, and restaurants with the nearby lively town are enough to make your experience unparallel.
The accommodation has a specific limitation if compared to other ski resorts, though the range offered is quite impressive. If you are planning to visit Chamonix, then we will advise you to visit in winter as the valley elevations are very low with almost no snow.
When to Go: Later winter is the best time in January and February when there's more snow. For non-skiers, August through September is better.
Attractions: The Noel Week is held from December 23 to 30th, while the New Year Week starts on January 14th till 21st. For hiking, try Lac Blanc or register with the 11 day Tour du Mont Blanc. Advanced skiing, mountaineering is best on the 4000-meter Mont Blanc and can't be found on most of the best ski resorts Europe. Other activities include golf, swimming, paragliding, cycling, markets, and festivals.
9. Zermatt, Switzerland
Zermatt lies in the foothill of Matterhorn with easy connectivity with Geneva both by air, road, and train. It offers you a wide range of terrain area with interlinking to serving Italy and an effective lift system.
It is a four-season resort with skiing available all around the month. And must to mention is the mountain scenery, enough to provide you a once in a lifetime experience. There is much off slop activity available with fantastic cuisine. The village restaurants are the best in the world and must to visit.
Though the accommodation is limited and prices go high at winter season but if rightly panned a well-budgeted tour is possible.
When to Go: Peak season falls between June and September, during summers when the temperatures vary from 12° to 25° Celsius. Lighter weather is perfect for skiing, biking, and more.
Attractions: It's one of the Best ski resorts in the world because, among shopping, there are numerous outdoor rinks for curling and ice skating. Most of the extreme ice sports take place on the steep ascent of the Matterhorn. Non-skiers can hike along with the Monte Rosa's Dufourspitze locality or get scenic views along the Gornergrat cog railway. Finally, end the day with a gondola ride to the Klein Matterhorn peak for fine dining.
10. Val d'Isere, France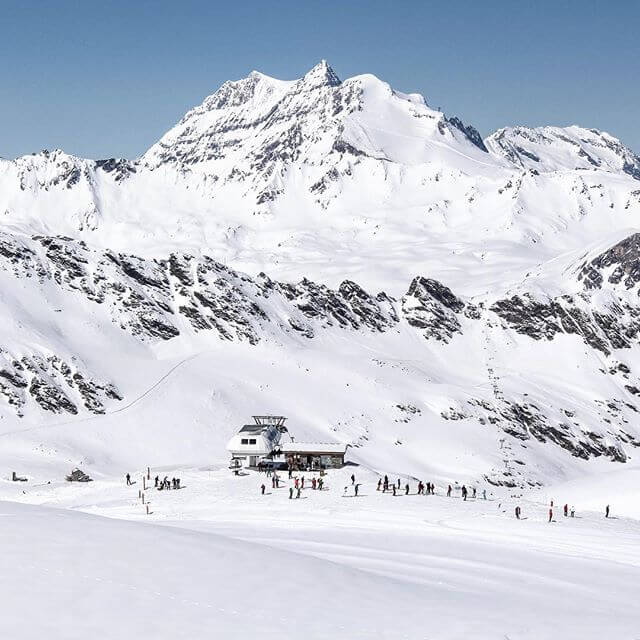 Val d'Isere is located in south France, 7 km away from Italy border. Chambery is the nearest airport followed by Geneva. Bus route from Chambery is also an option to consider.
While selecting a ski resort in Europe, one of the major challenges is the snow precipitation as mountains are not covered with snow all the time, also some time snow level is too low to ski. But not in this case, Val d'Isere will offer you quality snow cover during the seasons. It has world-class terrains and skiing offering for all levels with modern lift and facilities. Off skies, you could taste delighted full cuisine of nearby villages with quality wine.
Accommodations are easily available, but it is overcrowded during peak seasons which make the accommodations pretty expensive. The resort has maintained its traditional French attributes and hamlets.
When to Go: Book a resort anytime from January through April for ideal snow conditions fit for outdoor activities.
Attractions: Pre Christmas, some fewer tourists take part in the Slalom events. Live entertainment in the La FolieDouce hosts tourists after they are done skiing in the Val d'Isère Snow Park. Ice driving and biking is best in Le Fornet.
11. Méribel, France
Méribel lies in the heart of the Tarentaise Valley in Moûtiers. The ski resort is surrounded by three Les Allues villages that are part of the Savoie Departement of France.
The resort has maintained its traditional Savoyard look while offering all modern amenities at the same time. It's more popular between the intermediate skiers.
It is a family-friendly resort with facilities available for each and every person. If you are planning a family holiday, it could easily fit your list. For ski lovers, the snow precipitation received is of 5 mm, but the resort has amazing snow canons which pump a lot of snow to add on!!
When to Go: January through March sees a lot of snow and is suitable for winter sports. There are fewer tourists in January as its a few degrees colder.
Attractions: The December peak season, you can participate in the Nouvel An Week taking place from December 30th to January 6th or the Vacances Février Week during February 10th and 17th.
12. Saint Anton am Arlberg, Austria
St. Anton am Arlberg is a small ski resort town in the middle of the Tyrolean Alps. It is often referred to as the Arlberg ski region as this was the first town where the idea of 'Alpine Skiing' was conceived.
There is a big après-ski community here and a museum showcasing the skiing history. Lifts provide access to the Rendl and the Valluga ski regions, there making it the best ski resorts in Europe.
When to Go: December is when you have deep snow and suitable for skiers. There's less precipitation in February, November and in January.
Attractions: Skiing in Galzigbahn region or the mountain recreation hub in Galzig for trekking, climbing, hiking, camping. Backcountry skiing, sledding, and extreme winter sports are ideal in Sonnenkopf. Or relax in any of the Valluga alpine huts accessible via cable cars.
13. Kitzbühel, Austria
Kitzbühel lies in the eastern Innsbruck, closer to Tyrol in western Austrian province. It has convenient connectivity with Munich airport. The resort could be reached through the connected station of Hahnenkamm and Kirchberg.
Kitzbuhel offers amazing trail network with amazing ski lights. One of the things worth mentioning here is the snow level. Kitzbuhel is blessed with snow all season; even enough for tree skiing. It interlinked resort area stretches its skiing range and make it favourite for skiers.
Kitzbuhel comes with great options when it comes to accommodation. It's one of the largest towns of the ski resort and provides rooms, apartments, hotel, and guesthouses all at reasonable rates.
When to Go: The warmest months are June, July, and August for the outdoor activities. The rest of the year ranges from cool to cold and is suitable for winter fun.
Attractions: The Hahnenkamm Mountain for annual hiking and ski races. The Kitzbüheler peak has the best ski slopes and is accessible only via cable cars. The Kitz Ski is the toughest ski terrain in the world for professional skiers, while families can head off to the Schwarz see for golfing by the lake.
14. Lech, Austria
Lech is another exclusive mountain ski resort and village in Bludenz, Vorarlberg just next to the Lech River. Lech falls under the Tannberg district, even though tourists refer to it as being part of the Arlberg region. It is administered along with other villages of Stubenbach, Zürs, Oberlech, and Zug.
If you are searching for a resort with lively bars and restaurant then, the buck stops here! It is one of the ski resorts which has taken special care of children's fun and pleasure, which make it an obvious choice for families.
When to Go: September, August, and February are the peak seasons. December has the lowest footfall and is an excellent way to enjoy skiing without the crowds.
Attractions: Most of the snow sports, chalets, and skiing happens in Ski Arlberg. At the same time, Sonnenkopf offers a host of backcountry skiing, sledding while Grober Widderstein is known for other things to do like trail running, mountain climbing and hiking.
Top Ski Resort of South America : Get a New Skiing Experience
15. Cerro Castor, Argentina
Cerro Castor is north to Ushuaia, in Terra del Fuego. The nearest airport is Ushuaia (USH), which is 30 km from the resort and takes 45 minutes of driving time. There is no train connectivity between Ushuaia and Cerro castor, but road compensates for same.
It is the longest ski center in Argentina and the southernmost in the world. Launched in 1999, it has 10 ski lifts that ferry over 9,500 people across the 28 snow trails in the 600 hectares of snows with an 800 m vertical drop.
The resort offers decent facilities for skiers and snowboarders. Here the mountain restaurant and cheap cafeteria are must mentions which make your trip memorable. For skiing, you can rent equipment from nearby shops, but the sky board schools are not English speaking.
When to Go: Great snow cover till October, but this place has enough snow throughout the skiing season, particularly from June till September.
Attractions: Skiing and snowboarding during the peak season. But, post-October; the slopes are better suited for the professionals.
16. Portillo, Chile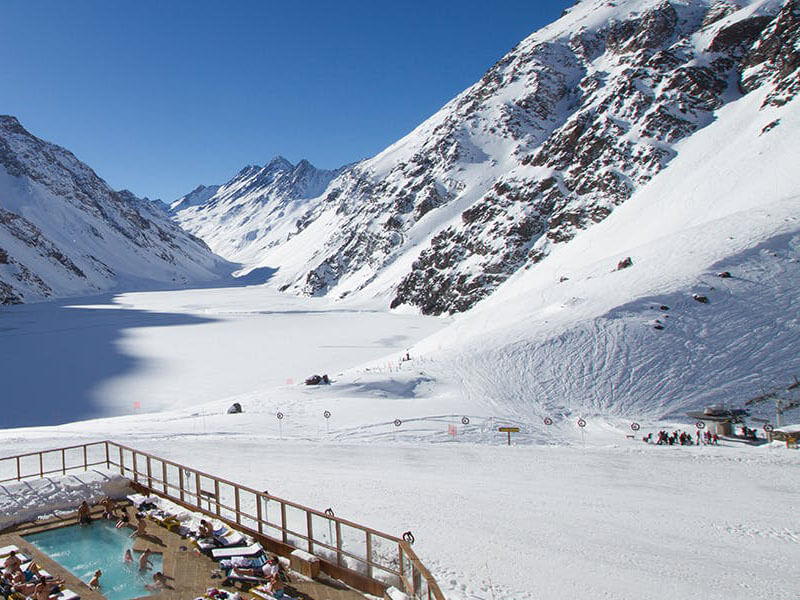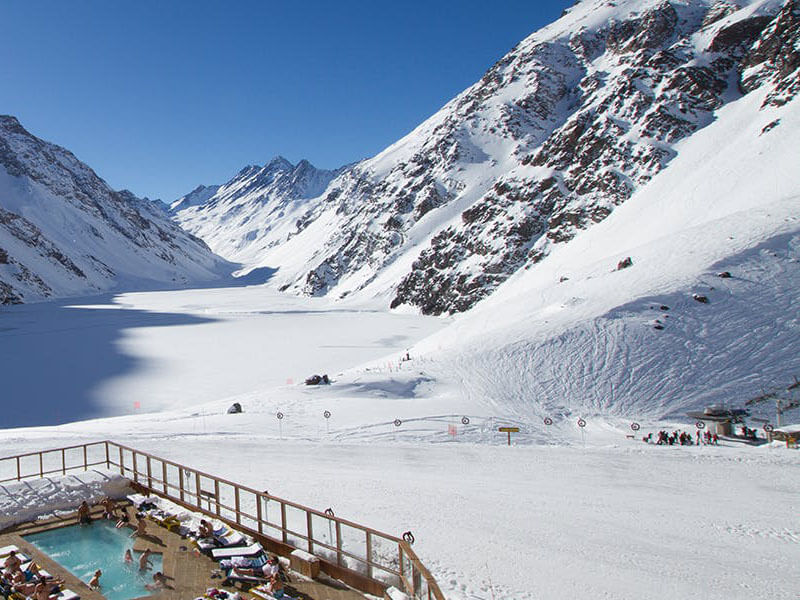 Portillo is in the Chilean Andes Mountains inside the Valparaíso Region. The resort is close to Los Andes, 160 km from Santiago at 2880 meters above sea level. The ski lift it has reaches heights of 3,310 meters.
Though it an all-season resort but winters are most preferred one as snow level are not up to the mark in other seasons. This resort holds history in its bucket, being first South American resort to host worlds skiing championship. If you are a professional skier, you must love steeps, and this is what these mountain passes.
When to Go: Ski season lasts from June till October. July has the best dry powder time right until the third week of September. After this, you have ideal spring conditions till October.
Attractions: They have luxury skiing, heli-skiing, deep powder skiing, and backcountry skiing. Children can go to the learner area with a gaming room, snow tubing, climbing walls and pool activities. Expert skiers and snowboarders can take the slingshot lifts.
17. Valle Nevado, Chile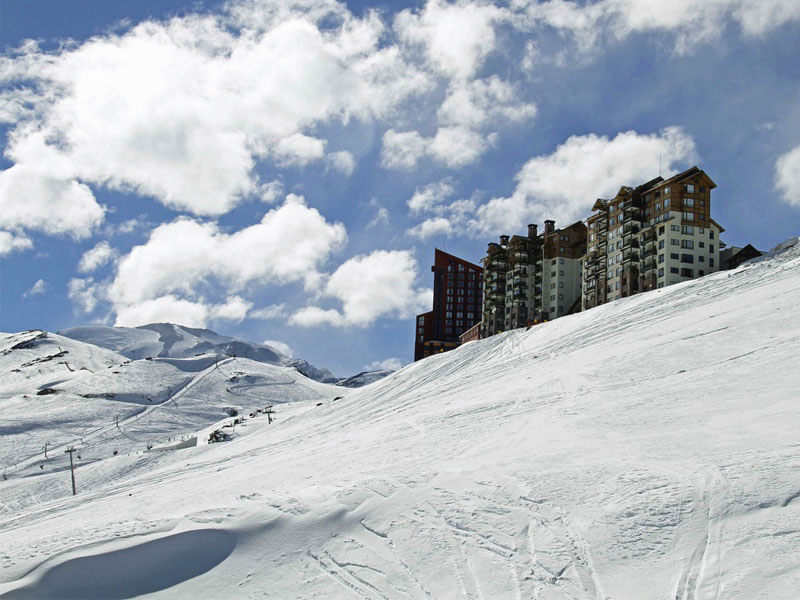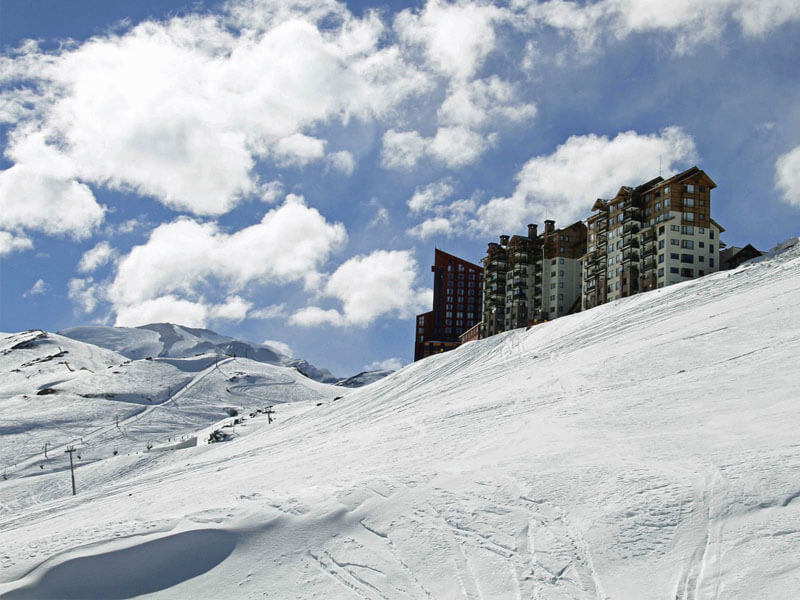 Valle Nevado is situated close to El Colorado and La Parva and offers the largest skiable surface, 46 km away from Santiago.
Valle Nevado is a ski resort filled with hotels, restaurants, apartments. The ski centre was opened in 1988, and in 2001 the first detachable chairlift called the Andes Express was launched. Valle Nevado played host to the 2003 and 2004 Snowboard FIS World Cup.
Though it's an all-season resort summer, do not receive enough snow, so hardcore skiers may avoid visiting it in summer. The accommodation provided is very high quality with most of near to skiing areas with excellent amenities and infrastructure.
When to Go: June through October are the best times.
Attractions: Skiing in the groomed slopes filled with fresh powder. Shops with over 1,200 ski sets and specialised snowboard gear. You can also enjoy Heli-skiing and snowboarding.
Top 3 Ski Resort of Asia: Enjoy Skiing on Asian Slopes
18. Niseko, Japan
Niseko is on Hokkaido Island, just near Mt. Yotei and the white-water rapids Shiribetsu River. It has a total four, interlinked ski areas across 2191 acres and is accessible via a ski pass. Niseko is the best ski resort in the world as it is the snowiest resorts receives 15-18 meters of snow per season.
The resort has received many skier awards in Asia and considers as a great place to ski for off-piste skiing. Weather is mostly cold, and sunshine is sporadic. You will get gondola, lifting and all international facilities here. Niseko offers an amazing nightlife with significant dining opportunities at Hirafu while Niseko village is comparatively peaceful at night.
When to Go: The Niseko ski season lasts from late November when winter starts in. Snowfall gets stronger in mid-December to mid-February and after that slows down by May.
Attractions: Skiing, water rafting, cycling around, climbing Mt. Yotei, snowmobiling, shoeing a snow tube. Otherwise, you can soak in an onsen, playing some golf, go hiking or horseback riding and relax at any of the nightlife spots.
19. AppiKogen, Japan
Appi Kogen resort is in the west of Tohoku, Japan. The most convenient route is the bullet train from Tokyo to Morioka, which takes around 2.5 hours to reach Morioka. From there another train for app Kogen is required to board.
Appi Kogen resort has gained all the positive review for its quality and being named as Aspen of Japan. It is a quality resort in Tohoku with unique amenities for international tourists. If you ask any skier about Appi Kogen, it will talk all about the groomed slope. So if you are a ski lover and love those twist and turn, you should never second your decision to visit Appi Kogen.
It is a family-friendly resort with many beginners to advance slope at a place. Nightlife is robust not very much extravagant, but it is connected to many nearby resorts which compensate for same.
When to Go: The winter ski season starts sometime in March till May. Snow falls in the night, but then in the day, you have clear skies.
Attractions: Ski on any of the 21 slopes, snowboarding lesson are available for inexperienced tourists. And for those who don't know snowboard or ski, then try nature treks, backcountry snowshoeing, karaoke, hot springs. A reason why it's the Best ski resorts in the world is that you can take part in the Appi Jazzy Sport in January and February. There's also a family park with sledding, mini-courses and snow tubes.
20. Gulmarg, Kashmir, India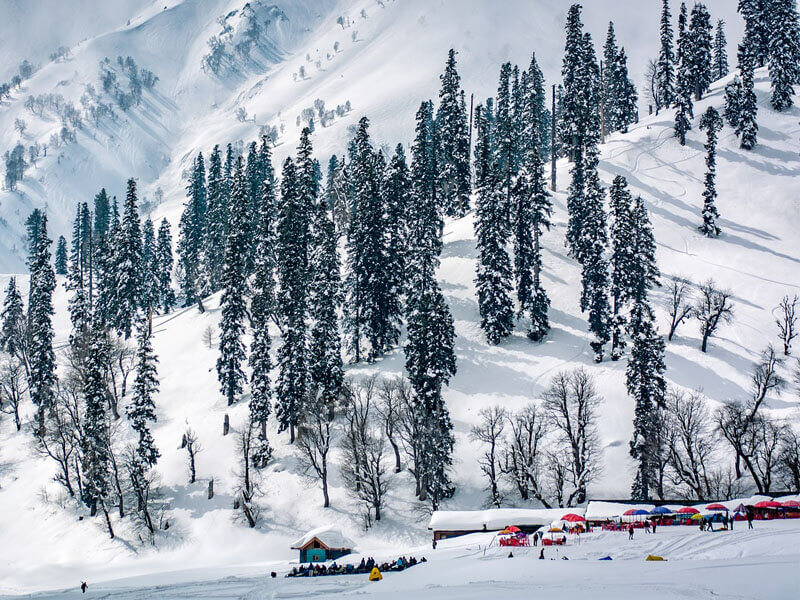 Gulmarg is a popular skiing destination in Northern part of Kashmir and could be reached by cab rental service through Srinagar. It is rated as the 7th best skiing destination in Asia.
When to Go: There is significant snowfall from December till February when temperatures reach -4 °C. March through June is the summer season and attracts higher numbers of tourists.
Attractions: The place is known for sports like snowboarding, skiing, tobogganing, and heli-skiing located in the Mount Apharwat accessible by gondola.
Conclusion:
Planning a ski vacation is based on comparatively lot of factors, whether its après, powder, budget or ski in ski out. Everything needed to be taken care of apart from skiing expertise level. Our list will help you to make a choice based on all the factors and come up with the best option for you. So enjoy your skiing with amazing ski resorts throughout the world.