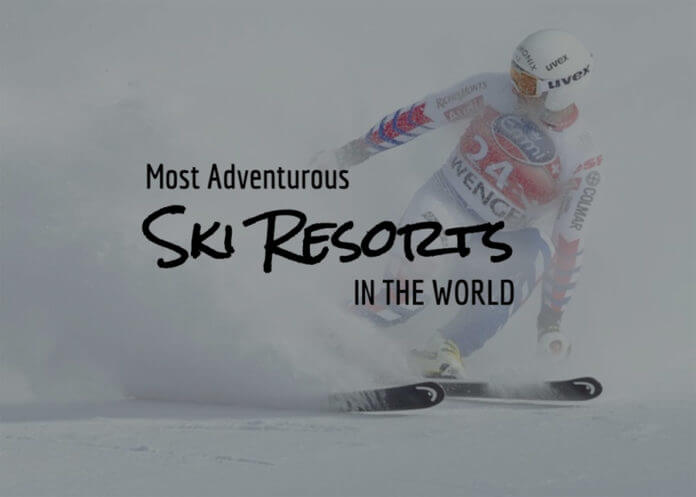 Planning a skiing vacation has a different preference for different Travelers. Where a professional skier searches for steep and slops a beginner opt for a destination with a ski school at first. Similarly, a family planned ski resort holiday should be more than just skiing, like shopping, club, and nightlife. While for a professional skier, search for snow quality and slopes.
We understand the range of demands and summarized the same in the article as the best ski resort in the world. This article will give you a clear insight on which resort will best suit you.
Top Ski Resorts in North America: Best Ski Experience Guaranteed
1. Whistler Blackcomb, British Columbia (Canada)
The Whistler Blackcomb snowy mountain peaks hidden away in Canada, in Whistler, British Columbia have the best ski resorts in the world. It's the biggest ski resort there is in the Northern Hemisphere. Since it's covered with snow, many people come here for the snowboarding and skiing.
This place is known for its uphill lift capacity and is, in fact, a huge ski resort that offers facilities for moving across the Blackcomb Mountains and the Whistler.
When to Go: The right time to visit these best ski resorts in Canada is either during June through August and December through March. For skiing, we'd suggest December to February, but in June and July, the mountains are opened up glacier skiing and camping or trekking outdoors. The temperatures in April and May are a little moderate so that you can spend more time outdoors.
Attractions: There are plenty of skiing and heli-skiing across the 17,000 hectares of snowy terrain. Snow tubing has been advised for the kids, while parents can relax at the Whistler Scandinavian Outdoor Spa located outside the Whistler Village. Athletes can visit the Whistler Olympic Centre.
2. Vail, Colorado (USA)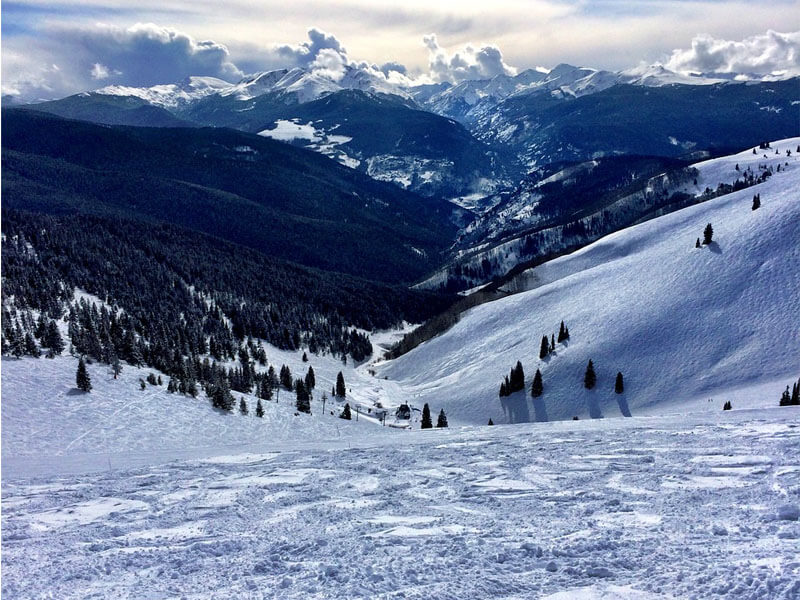 In the small town near the Vail Mountain in Colorado, you'll find the Vail Ski Resort. The town has for years been a hub for skiing, snowboarding. The place is ideal for cultural festivals, hiking and golfing during the summers. One can even enjoy fly fishing on the Gore creek that runs through this town.
When to Go: Anytime between January and February is the best time to enjoy skiing in Vail.
Attractions: In the summer and fall, you can take a chairlift ride or hike along any of the 17 paths chalked out for you. You can also plan out an epic tubing run, adventure course, zip-lining. In the 35,000 acres of forest area, you can go mountain climbing or take a walk in the Betty Ford Alpine Gardens.
3. Aspen, Colorado (USA)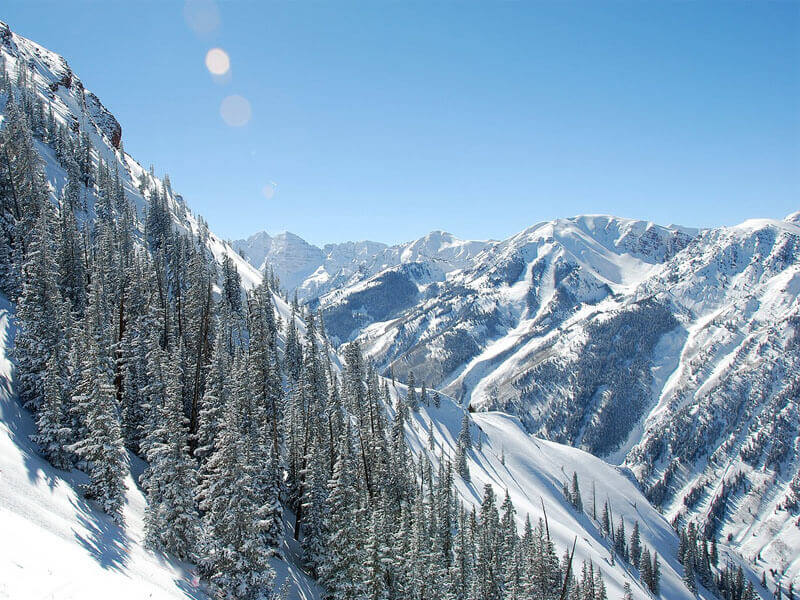 Aspen Resort also known as Ajax is a collection of 4 resorts which are collectively known as Aspen Snowmass and consider as favorite Places to go skiing in USA. Aspen got its name from the aspen tree all around the town. The resort is comparatively less crowded but a significant destination between the ski lovers. It has around 650 acres of terrain exclusively devoted for skiing. Aspen does not offer beginners level skiing as its terrain's space is bifurcated in between intermediate, advanced, and expert level only.
Its mostly visited by skiers in winter when precipitation is high. You can enjoy other activities like paragliding, hot air balloon, and ice skating during the winter season. And if you are not a skiing addict, don't worry, it has a lot more to offer you than snow carpets. Aspen is a hot favorite shopping destination for all tourist visiting Colorado. You can shop for clothing to snowboards anything. Apart from buying its day spas, hot spring bath and nightlife are equally enjoyable.
The resort offers you a wide variety of lodging suiting your budget. Its accommodations are comparatively cheaper than Vail resort without compromising any amenities offered. You can easily find affordable accommodation with breakfast option. If you are a die-hard skiing fan, this could be a great Places to go skiing in the USA.
4. Telluride, Colorado (USA)
Telluride is located in the inside a box canyon, surrounded by cliffs and mountains. It is known for its slopes and ski resorts; you need to take a gondola to the neighboring town of Mountain Village.
When to Go: Book your holiday between Mid-November to August.
Attractions: Telluride is seen as the best ski resorts in the world, as it has many trekking and cultural festivals during the summer. But it's during the winters that they get even more tourists. You have to use the gondola to access the 1700 acres of snowboarding and skiing terrain, just behind the mountain ridge.
5. Deer Valley – Park City, Utah (USA)