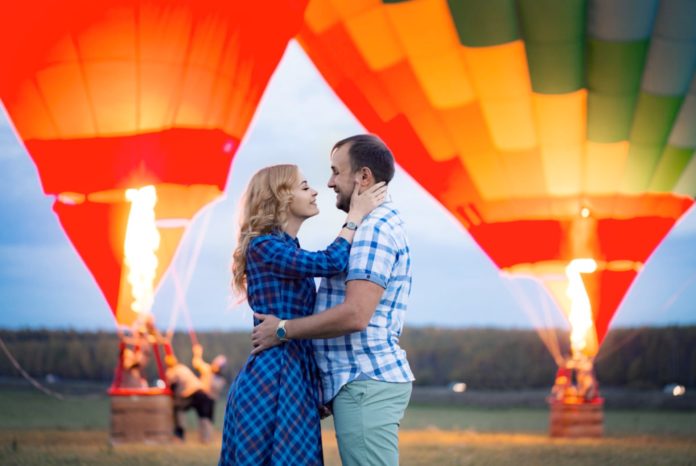 Las Vegas is a fun-loving, adventurous and the best romantic place for couples. Flying High in the sky, amazing boat ride, soothing spa, Venetian gondola ride and many things give you immense pleasure with your partner.
Here is a look at 15 best romantic things for the couple's attraction to spark sizzle. The place has the best hotels, casinos and spas that will be comfortable and take care of you by providing quality service. So if you have dreamt of visiting Las Vegas with your partner, go for it.
15 Best Romantic Places for Couples in Las Vegas
1. Hot Air Balloon Ride
An extensive and adventurous rock formation from a balloon ride is one of the most romantic places in Las Vegas.
You can cuddle up with your partner by sharing a glass of champagne during sunset or sunrise. After this, with a calm trip over the panoramic desert and mountains for one hour, you will feel the true love of your partner.
With a champagne toast, light continental meal and balloon ride all turns the journey into beautiful memories for the lifetime.
2. Helicopter Tour with Dinner at Grand Canyon
 You can take a helicopter flight over the Grand canyon with a royal dinner. You can sit around rocks during sunset with a glass of champagne to enjoy the moment.
You can feel an ambience of lavish dinner date arranged beautifully on a table covered with a plain tablecloth and fine glassware. Beef Bourguignon, vegetarian lasagne or Chicken Cordon Bleu with a toast of champagne are the meals to spend a couple of hours.
Also read: 10 best life changing trips for couples
3. Scooter Tour – Red Rock Canyon
Romantic couples also love fun things that can do a scooter ride with their partner chasing each other along the way. The red rocks will attract you to give strength and the empty road will lead you to go far on your trip.
You will guide with safety instructions to enjoy the air passing your body. You have an opportunity to spend a whole day to enjoy the spectacular red canyon rocks.
4. EIFFEL TOWER EXPERIENCE
You will feel good with a romantic dinner at the Eiffel Tower as the place has many best hotels. To avail top service near The Bellagio Fountains and the Eiffel Tower view is the most pleasant moment at night.
It has been commonly seen that couples propose their partner or plan anniversary, which made this place a symbol of love.
The most common stuff couples used to do is to walk along the streets by holding hands of each other to take photos. You can tie up a lo